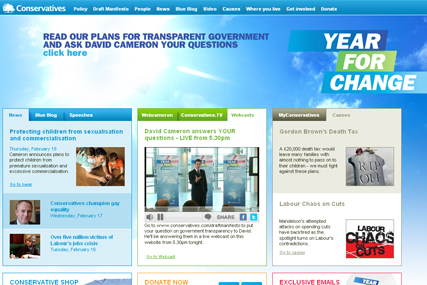 Research over a two month period (November to January) showed that all the main parties are missing out on opportunities to influence voters in the run-up to general election, which is expected to be held in May.

The Tories sent 12 email messages while Labour sent only one and the Liberal Democrats none at all, according to Return Path, which conducted the research.

The three parties also failed to send immediate welcome messages after people signed up to receive updates. It took the Tories six days send email message and Labour 58 days to do the same.

The British National Party, which is heavily targeting a number of parliamentary seats in the coming election, sent more email than anyone underscoring its use of digital media to fight the election. The BNP sent a total of 20 messages and waited only 24-hours before sending its welcome message.

While many companies are increasingly exploiting the integration of social media and email the UK's political parties are not. They are still failing to make the best use of this.

The same is not true of the two main parties and their websites where there are varying mentions of Facebook, YouTube and Twitter.

Consultants are telling companies to integrate social media with their email marketing and to be sure to include links to their social media websites and blogs. Yet according to the research only the Conservatives and the BNP have incorporated social media links into their email.

The parties are also failing on a most basic level of social media sharing with none of the parties including a send to a friend button in their email either or a donate button.

The "donate now" button proved very effective for Barrack Obama's digital campaign team in the 2008 presidential elections.

The Obama team is estimated to have raised around $500m online with two-thirds of that coming via email as people took up the invitation to click a "donate now" button in an email.

Most of the donations to the Obama campaign were small but because of the size of his email mailing list, which was reported to have been as large as 13 million, it sent out more than one billion messages attracting on average more than $6 per recipient.

Margaret Farmakis, Return Path's senior director of response consulting, said: "Parties that don't incorporate social media links in their emails are missing a trick, and depriving themselves of a quick and easy way to grow their communities online."

"Our study showed the Conservatives were by far the strongest party in their email communications. They took the least time to engage with new subscribers; sent messages at the promised frequency; and incorporated social media within their messages."

However, while the Conservatives are winning with their email marketing a report by the Labour blog #ge2010 says that the party's much trumpeted new fundraising website launched in October has failed to raise significant sums.

According to the site MyConservatives.com has raised a paltry £24,000 out of a £750,000 target.

One of the most high profile efforts to raise cash has been a campaign by Tory bloggers to oust Bristol East MP Kerry McCarthy who is Labour's new media spokeswoman.

After some Tory bloggers distanced themselves from the campaign, which has managed to raise a little over £1,800.

A significant amount of the party's funding continues to come from Bearwood Corporate Services, which is Lord Ashcroft's donation vessel.

Lord Ashcroft is reported to have provided between £4m and £5m to the Conservatives, which is a matter under investigation by the Electoral Commission. The party only generated £32.4m in 2008 according to its published accounts. That was a fall of more than £1m on the previous year.
More on Brand Republic blogs