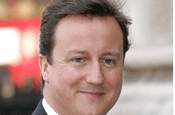 Andy Coulson, the former News of the World editor who was recently named as the director of communications for the party, is understood to be managing the process.
The party's campaign strategist, Steve Hilton, and communications manager, Anna-Maren Ashford, will also be closely involved with the search.
Industry insiders suggest that the Tories are seeking a shop with close affiliations to the party. WCRS is among the agencies that have already been approached.
It is understood that the hunt for an election agency will not affect the party's current relationship with Karmarama, which was appointed last year to handle the advertising for a range of social issues such as warning young people of the dangers of getting into debt.
Three weeks ago, Labour kicked off a search to find its own advertising agency ahead of an early election, tipped to be called for May 2008 (Campaign, 10 August).
The Tories' 2005 election campaign was handled by Mike Moszynski at The Immediate Sales Company, a subsidiary of M&C Saatchi. Lord Maurice Saatchi, who was the Party's chairman at the time, later came under heavy criticism over the scale of the £2.5 million bill sent to the Conservatives for the agency's work on the campaign.
M&C Saatchi also created ad campaigns for the previous two general elections in 1992 and 1997, including the notorious "demon eyes" poster featuring the former prime minister Tony Blair.