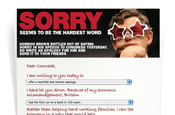 The website, www.sorryfromgordon.com, encourages users to write a letter by selecting options from dropdown menus, and email the finished product to someone they think deserves an apology from the prime minister.

The campaign is being promoted on Google Adwords, so anyone searching for "Gordon Brown" will see the site come up as top sponsored link.

It was conceived and written by the Tories' inhouse team, with design by Perfect Day.

Jeremy Hunt, the Shadow Culture Minister, said: "Gordon Brown seems to be the last man standing, even in his own Government, who refuses to apologise for getting us into this mess. If he's struggling to spit the words out, hopefully our online viral will give him a few ideas."