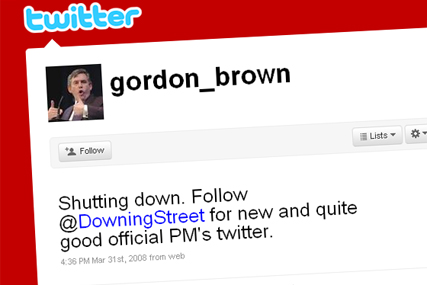 Search agency Tamar highlighted what it described as "potentially damaging oversights" in management of the "personal brands" of Gordon Brown and David Cameron.
The research tracked the reputation management of Brown and Cameron over the past two months to determine how successful they have been at positioning themselves positively online.
Its findings show that unofficial and highly negative websites bearing the names of the Conservative and Labour leaders, including davidcameron.com and gordonbrown.com, consistently rank high on the first page of Google search results.
However, for Gordon Brown there is only one unofficial sie on the first page of Google search results when looking for "Gordon Brown".
Gordon Brown alone is attracting around 400,000 searches a month on Google with around 30,000 of those resulting in people visiting the unofficial sites, Tamar said in its second political search index report.
Twitter is also an area of failing for both party leaders in an election where digital campaigning and social media will be crucial.
The two party leaders have not moved to protect their personal brands on Twitter by opening a personal account.
A Twitter account bearing the name of Gordon Brown, @gordonbrown, and featuring his picture clearly has no connection to the prime minister.
The latest status update on this account reads: "Going to Liverpool tonight, will be at the Newz Bar, hope Alex Curran [Steven Gerrad's wife] is there".
The account bearing David Cameron's name and photo, @davidcameron, had until earlier this week been featuring unofficial party news. This, however, now features a message reading: "This unofficial Twitter is now shutting down, at the reasonable & very polite request of Tory HQ. Please follow @conservatives for updates."
The contrast to the United States could not be stronger. Social media and Twitter in particularly played an important role in the 2008 US Presidential elections and was used very successfully by the Democrats.
President Barack Obama's official Twitter account @Barackobama has more than three million followers.
The prime minister's official Twittering is done via the @DowningStreet account, which has 1.7 million followers. In addition to this the PM's wife Sarah Brown has a strong personal following with more than one million people following @SarahBrown10.
Tory leader Cameron's official tweets come via the @Conservatives Twitter account, which has just 17,727 followers.
This is more than the official Labour Party account @UKLabour with 8594 followers. Despite the election being underway Labour's Twitter account has tweeted only once in 2010 and is being outpaced by the activity on the @Conservatives account, which has been very active.
In terms of search rankings Brown wins. The @DowningStreet account it is the first Twitter account to come up on Google search when using the search term Gordon Brown Twitter.
Brown's Twitter presence scores much better than David Cameron. The @Conservatives account does not come up on the first three pages when using the search term David Cameron Twitter.
Tamar, in its report, said: "With the explosion of real-time search recently, it's even more important for the political parties to take both factual and 'social' search seriously. Simple actions such as registering the names of key figures, opening Facebook accounts and engaging on Twitter."
The latest Tamar report follows research from the agency last year that claimed the Labour Party scored poorly in terms of Google search rankings.
More on Brand Republic