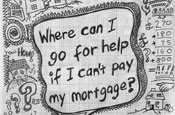 The Tories claim the push breaches Whitehall rules banning party political advertising at taxpayers' expense.

The same slogan has been used by Gordon Brown and his ministers as they contrast Labour's policies with the Tories' "do nothing" approach.

National press ads promising "real help for homeowners now" and urging them to visit the Directgov website ran this week and will be followed by others for other schemes.
The ads will be produced by individual government departments and funded from their existing budgets.
The Tory MP John Baron said: "The Directgov website should be a source of impartial government advice, not an ad for the Labour Party."

The Cabinet Office insisted the campaign did not breach strict guidance on propriety and the civil service code.

A spokesman said: "Communication is more vital than ever during the downturn because people and businesses across Britain need to know what help is available and where to find it.

"'Real help now' brings together a wide range of support from across government under a single umbrella.