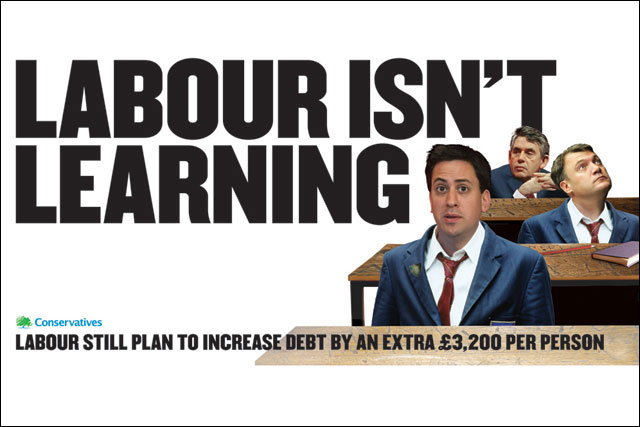 The campaign entitled, 'Labour Isn't Learning' has been created by M&C Saatchi and launches to coincide with the Labour Party's annual conference taking place this week in Manchester.
Posters will be displayed on a van touring Manchester to greet conference attendees as they arrive in the city. It is the first of a series of ads attacking Labour, which are expected over the conference period.
The ad refers to a study by the Institute for Fiscal Studies, which estimates Labour would borrow £200bn more than the Conservatives.
The Saatchi brothers were behind the famous Conservative "Labour's not working" poster for Margaret Thatcher's 1979 campaign, when they were still at Saatchi & Saatchi.
It was Lord Saatchi, who has long championed the Conservative Party, who devised the "Labour isn't working" ad that is widely credited as being a major factor in the success of Margaret Thatcher's 1979 election campaign. Following the campaign, Lord Saatchi became co-chairman of the party.
Grant Shapps, the Tory party chairman, said: "Labour isn't learning. They still think we can borrow our way out of the debt crisis. Their plans would mean borrowing over £200bn more. They would shackle every person in this country with £3,200 more debt – over and above the debt they already ran up when they were in government. More spending, more borrowing, more debt – Labour isn't learning."
Follow @SaraKimberley