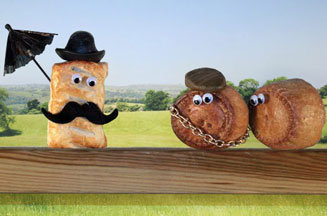 The campaign is demanding compulsory 'country of origin' labelling so that meat products that are labelled British can only come from animals born and bred in Britain.
Birds Eye's chicken and roast beef dinners, ironically which are both part of a range called 'Great British Menu', have been singled out. The labelling on the back of the pack of the chicken product reveals that it is made in Ireland from 'imported chicken' while the beef dinner is 'made in Britain from imported beef'.
Heinz's beans with pork sausages claim to be 'made in England' but further enquiries by the main opposition party revealed that the sausages were sourced from 'the EU'.
Heinz was unavailable for comment but a Birds Eye spokeswoman said: 'The range of meals within Birds Eye's "Great British Menu" sub-brand are inspired by a typical British menu and, to ensure clarity as to the source of ingredients, we always state on pack where the product was made and if the meat has been imported.
'We make every effort to provide clear on-pack information and would support an industry-wide review to ensure consistency of food labelling,' the spokeswoman added.
To promote the drive, the Conservatives have launched a website, www.honestfoodcampaign.com, and an animated short film, created by design agency Perfect Day and produced by Euro RSCG London. It features a talking Dutch pork pie unsuccessfully trying to convince a British counterpart that it too is British.
Anna-Maren Ashford, head of brand communications for the Conservatives, said: 'People have a right to know where their food comes from. Under current rules foreign meat can be imported into Britain, turned into sausages, bacon or pies and then labelled as "British".
'We think this is dishonest - meat labelled 'British' should be born and bred in Britain,' she concluded.
The call for country of origin labelling is being endorsed by farming and animal welfare organisations including the NFU and RSPCA, and the Honest Food campaign is backed by food celebrities including Hugh Fearnley-Whittingstall and Clarissa Dickson Wright.
The Conservatives will also be introducing a parliamentary bill requiring meat and meat products labelled as British or carrying the Union flag to be born and bred in Britain.
A new poll commissioned by the Conservatives shows strong public support for clearer country of origin food labelling. The ICM survey found that 51 per cent believe food labelled as British indicates the meat is from an animal born and bred in Britain, when in fact this is frequently not the case. A huge majority (89 per cent) support a 'born and bred' qualification for British labelling.