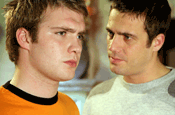 Hitting out at Public Service Broadcasters for not being ambitious enough in this area, the shadow culture secretary, Jeremy Hunt, indicated that, under a Conservative government, there would be less regulation for those who signed up to delivering socially responsible output.

Speaking at the London School of Economics, Hunt said: "[Broadcasters] receive huge public subsidies. Surely it is reasonable for them to take responsibility for the social impact of their programmes?"

Citing Channel 4, Hunt said that it was "not good enough" for it to produce "worthy" programming such as its ?Dispatches documentary on alcohol abuse and then air programmes such as Hollyoaks, which he claimed devotes 18 per cent of its screen time to alcohol references.

He said that deals on socially responsible output would "harness the power of a subsidised media sector in a way that avoids state control and heavy-handed regulation."

Hunt added his criticism of the BBC to that of Gordon Brown over the "Sachsgate" row.

Russell Brand and Jonathan Ross have been suspended by the BBC for making obscene phone calls on air to the actor Andrew Sachs.