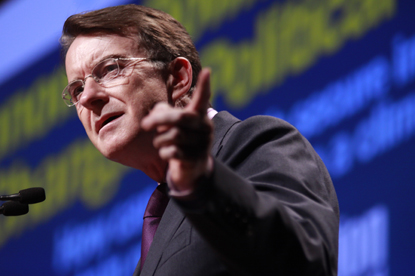 The Conservative opposition is to table Commons questions over a proposal to brand several different Whitehall campaigns and claims they should be fund-?ed by the Labour Party, not taxpayers.

Building Britain's Future was a government policy document published in June. Tory officials say it amounted to a draft Labour election manifesto and that the slogan has featured on Labour's website.

Lord Mandelson, the Business Secretary, has urged fellow ministers to include the phrase in departmental campaigns about schemes to help Britain through the recession.

He argues that effective branding and marketing will ensure help reaches people and businesses and build public confidence in the Government's measures.

Francis Maude, the shadow minister for the Cabinet Office, said: "In the run-up to an election, it's doubly important that the political impartiality of the civil service should be respected.

"It's for ministers, not civil servants, to set out political priorities. Peter Mandelson should remember that the civil service exists to serve the nation, not the political interests of the Labour Party."

It is the second time that Whitehall ads about anti-recession measures have provoked criticism. Press ads using the slogan real help now were questioned by opposition MPs but approved by the Cabinet Office.

Ministers deny that using Building Britain's Future in ads would be party political.

The Government has a duty to tell the public what it is spending taxpayers' money on, a spokesman said. It is fully compliant with Cabinet Office guidelines on propriety.