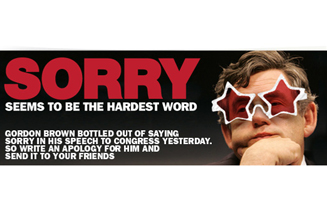 The top sponsored link for the words 'Gordon Brown' on the search engine directs users to the url, www.sorryfromgordon.com.
'Gordon Brown bottled out of saying sorry in his speech to Congress yesterday so write an apology for him and send it to your friends,' the website says.
Those clicking through are presented with a page which allows them to write an imaginary speech using pull-down menus. They can also provide email addresses of friends who may want to compose their own apology.
The website is the latest move in the digital battle being waged by the two parties. Last year Labour ran viral spoofing an imaginary conversation between shadow cabinet members.