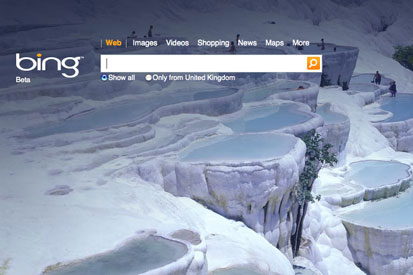 Many of the early adopters of Bing, which went live in May, have reported high levels of satisfaction when using the successor to Microsoft's Live Search.
The new offering is now the fastest-growing top 10-search engine in the US, reporting a 22.1% rise in search queries in July compared to the previous month.
But despite encouraging signs, many internet users find it impossible to turn their back on Google even once.
However, a new site called Bingle lets users have it both ways, by producing results from Google and Bing side-by-side.
The site was created by Joshua Buss, a 26-year-old Unix administrator in Chicago, who said he came up with the idea when he was working on a project that involved displaying sets of information together.
He told The Wall Street Journal: "When I first heard about Bing and how good it was supposed to be, I knew I should make something that would let me use it at the same time as Google. Otherwise, my reliance on Google meant I'd never give Bing a fair shot."
The first version of Bingle was created within just eight hours of the Microsoft site's launch. A new version that incorporates video, images and news to the search results has just been rolled out.
You maybe unsurprised to hear that Buss rates Google as best the overall search engine, but he believes Bing wins some of the battles, if not the war.
"Their [Bing's] image and product searches, especially, are actually better than Google's, both in usability and the results delivered," he said.