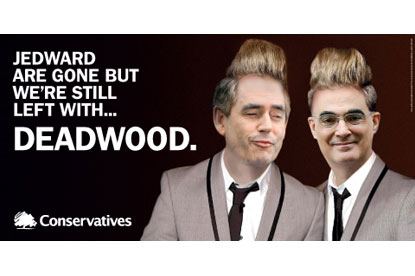 The Conservatives' poster appeared around London on digital poster sites last night, within five minutes of the bequiffed pair being voted off the ITV talent show.

Two weeks ago, the Labour Party released an almost identical press ad, featuring David Cameron and George Osborne dressed like Jedward.

Mark Mendoza, chief executive of media agency MPG said: "It's a great ad - thanks to Euro - and to the client for having the balls to go for it."

The ad uses the tagline "deadwood" as a pun to refer to the current Labour government, a phrase also used as the front page headline in today's Sun to refer to Jedward's exit.

The Labour Party's poster used the strapline "You won't be laughing if they win".

A Labour Party spokesman said: "We did this two weeks ago and this shows once again how Labour is leading the way in digital campaigning and the Tories are left scrabbling around playing catch up."