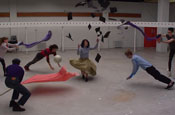 The spot, which was filmed using more than 200 of Toshiba's own Gigashot HD camcorders, has picked up the record for "The most moving image cameras used in a composite film shot".

The ad, which promotes Toshiba's Upscaling range of TVs, uses a 3D extension of the bullet-time technique made famous in the film The Matrix to create a "moving snapshot of time".

Grey developed the idea while the Hungry Man director, Mitch Stratten, created the technique.