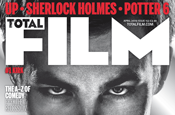 Star Trek film characters Kirk, Spock, Uhura and Nero will feature on the covers of the latest issue of Future's Total Film, which goes on sale this Thursday 5 March.

The issue uses an innovative method of printing pioneered in Japan where the cover is printed directly onto foil with UV-cured inks. The cover was created with the support of Paramount Pictures.

Simon Maxwell, the group publisher of Future's film portfolio: We have always prided ourselves on delivering eye-catching covers, and our readers love them.

"Star Trek is set to be one of the biggest movies in 2009, a major reboot of the much-loved franchise, a harder sci-fi edge for blockbuster season. With so many films to be excited about this year, Total Film is helping the industry and enthusiasts celebrate the very best.