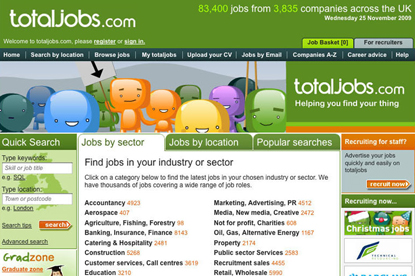 The review has been called as part of an effort to help build consumer awareness around the brand, backed by an increase in marketing spend.

Total Jobs has been the UK's most visited recruitment website since 2006, but has struggled to build on its position as the market leader.

As the number of people looking for jobs during the recession has increased, the company is now keen to look at different ways of attracting new users to the site, in a competitive market that already includes rivals such as Monster.co.uk and Fish4jobs.

In the past, Total Jobs has used Saint, the digital arm of Rainey Kelly Campbell Roalfe/Y&R, to handle the majority of its ad campaigns.

Work has predominantly run online, but the company is now keen to explore different advertising media, including television, print and experiential.

The most recent campaign by Saint for Total Jobs incorporated a series of banner ads that were devised around the positioning of Total job satisfaction.

The ads featured colourful animated characters holding up signs that underlined the benefits that finding a new job can bring. The campaign carried the strapline: Let your next boss find you.

According to the latest employment figures, unemployment rose by 0.1 per cent for the three months ending September 2009, meaning that 2.46 million people in the UK are now without a job.