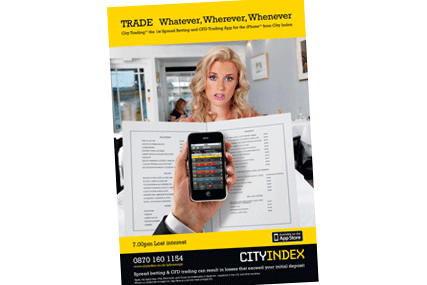 The account, previously handled by Gotham Financial Services, includes planning and buying in the UK, Germany, Poland, Australia, Singapore and the Far East.
Total Media will also now be responsible for all online media planning and buying across City Index's regional markets, although local markets are still expected to handle bespoke marketing activity.
The appointment follows a pitch process led by Keith Goldson, head of European marketing at City Index, and comes ahead of a global customer acquisition push centred around outdoor, press and online channels - with about £3m earmarked for digital media. The global ad campaigns will target advanced traders in the financial sector, as well as taking advantage of the increasing number of consumers looking for alternative investment opportunities.
Total Media will also promote City Index's City trading product in 2010, which claims to be the first spread betting and CFD trading app for the iPhone.
Lucas Brown, joint managing director of Total Media, said: "Drawing on our international knowledge, experience and expertise, we'll deliver a direct response-focused strategy designed specifically to drive customer acquisition."
The appointment continues a successful year for the agency, in which it has won the media accounts for Swan Hellenic, New Zealand Lamb and, last month, global media for the Association of Chartered Certified Accountants. However, its £3m integrated planning and buying account for the London Southbank Centre is currently up for review and it recently lost the account for youth homelessness charity Centrepoint to Starcom.