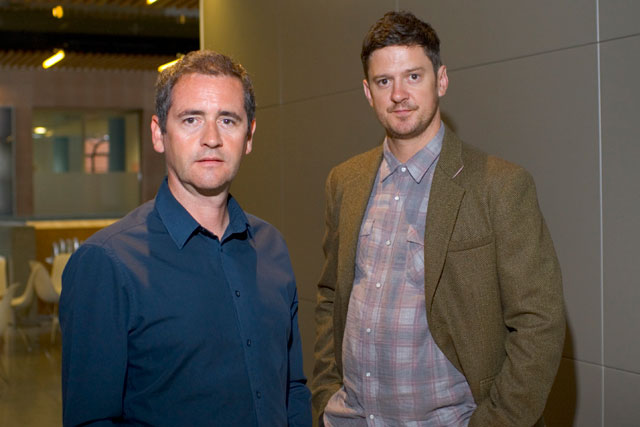 To those who get their advertising education from Mad Men, Dave Henderson and Richard Denney might not seem much like executive creative directors at a big ad agency. There are no overinflated egos, no overpriced clothes worn just to make a statement and no elaborate hissy fits following a client rejection. We didn't ask but can't imagine a string of affairs with agency secretaries either.
Indeed, the former Lowe New York chairman Mark Wnek once described the pair as "the most professional and effective creative team in advertising".
In fact, Lowe's London office is where Henderson and Denney will be calling home from 19 September. After a seven-month search, the pair have been appointed DLKW Lowe's new executive creative directors, following the departure of George Prest in January.
Despite being well-liked and boasting an excellent portfolio, Prest's performance at DLKW (which merged with Lowe last summer) had been scratchy at best, with creative highlights few and far between, and lowlights, such as the infamous "radio station" campaign for Halifax, all too prominent.
A new "professional and effective creative team" might be exactly what's needed.
"At DLKW Lowe, you have to be a guardian for big brands," Tom Knox, the joint chief executive, explains, "so we were looking for somebody who was grown-up but also cares about the quality of work. In Dave and Rich, we've found people who are very professional in that area but also have fantastic energy and enthusiasm to reinvigorate a creative department."
The pair seem up for the task too. "When we first heard about the job, we didn't realise just how big an opportunity this could be," Henderson says. "You've got an agency that's consistently in the top five for billings, a very stable management team with really good backing from (the Lowe Worldwide chief executive) Michael Wall and a brilliant portfolio of clients. It's a really powerful proposition."
However, it's also a very big job for a pair yet to experience life as executive creative directors. But both point out that their CVs reveal long periods spent at big-name agencies, working with some of the very best in the business.
The first of those "big names" was Mark Roalfe, who worked closely with Henderson and Denney at Rainey Kelly Campbell Roalfe/Y&R, where the pair first joined forces in 1996. After eight years at the agency - where they won numerous awards for Land Rover, Virgin Media and Kronenbourg 1664 - they left to join Saatchi & Saatchi as creative directors on Carlsberg and Toyota.
It was during this four-year stint in Charlotte Street that Henderson and Denney produced what are perhaps their most memorable pieces of work to date: the "Old Lions" TV ad for Carlsberg and the "running man" spot for Visa.
And the portfolio they had built was enough to convince Jeremy Craigen to bring them to DDB, where, since February 2008, they have worked on some of its big-gest campaigns, including "last tango in Compton" for Volkswagen, "lyrics" for Budweiser and "our house" for Virgin Media.
The pair's ability to originate strong creative work out of big, occasionally bland clients bodes well for their new role. DLKW Lowe has sometimes suffered for fostering a reputation for having too many "populist" brands, providing creatives with the opportunity to produce little more than a series of price-led ads - but it's an allegation that Denney refutes.
"We've never gone to a new place just to work on the 'sexy stuff'," he explains. "We've always been best at taking work that perhaps hasn't been great before and turning it into something special. Before we did 'Old Lions' for Carlsberg, no-one wanted to work on the brand and now everyone does. The same goes for Visa before we did 'running man'."
"We don't want to spend six months on a press ad for a boutique brand," Henderson adds. "We want to be in the back of a cab and when the driver asks 'What ads have you done?', they'll have seen them."
Both Denney and Henderson admit that they're not going to change the agency overnight, but stress that there's a seat still for DLKW Lowe at the top table. "A decade ago, there were ten or 15 agencies in the UK that could claim to be among the biggest and best in the world, but I'm not seeing that any more," Henderson says. "There's definitely room for at least one more good big agency in London, and we're on a mission to make that happen again."
Of course, DLKW Lowe is a very different proposition to what it previously has been. Having merged in July last year, the agency has spent the past 12 months rejigging its management line-up and overhauling its positioning. And you sense that only now, with the arrival of its new creative heads, has it finally got itself in a position to kick on.
"The management team have told us that they're ready to back creativity, so it's up to us to up the energy in the creative department," Denney says. "But our brief isn't to make Lowe great again or make DLKW sexy. This is a new agency, like a start-up but with good, solid and healthy clients. When you put it like that, it gets very exciting."