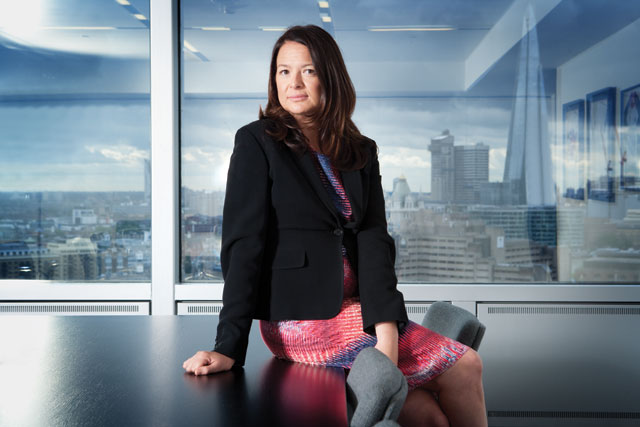 Katie Vanneck-Smith, News International's chief marketing officer, says there are two reasons why she overhauled its advertising arrangements this year. And neither was due to dissatisfaction with the work that WCRS delivered.
No, one of the reasons why she parted ways with the agency, which looked after the Sun brand, was efficiency. "It's cheaper and more efficient to have one team of people and one global WPP deal," she says. She explains that the decision was also driven by a desire to have a dedicated team of people focused not just on delivering great advertising but who could be "real business partners" that the marketing team could be closer to.
The publisher of The Times, The Sunday Times and The Sun kick-started the review in January, opting for a process that allowed WPP agencies to pitch exclusively for the business. As a result, WCRS couldn't repitch. "It was sad for them," Vanneck-Smith says, "because, actually, we'd been really pleased with what they had done." Her favourite ad by the agency is the one featuring Terry Venables during the 2010 Fifa World Cup: "When Terry comes out in Wembley Stadium and sings the Elvis song If I Can Dream - that spine-tingling moment ..."
CHI & Partners, which handled The Times and The Sunday Times before the review and is part-owned by WPP, pitched alongside OgilvyOne for the consolidated business. But, in the end, Vanneck-Smith said the "perfect" combination was Grey, OgilvyOne, Ogilvy Change and M/SIX, the latter of which usurped the WPP-owned Mindshare. The new agency roster was duly branded "Team News", continuing a vogue favoured by Sir Martin Sorrell to create cross-agency teams that are focused on big clients.
It was Grey's executive creative director Nils Leonard's "total enthusiasm and endless creativity" that Vanneck-Smith says impressed her. She says "get involved", the idea behind the Sun brand campaign that Grey has worked on throughout the summer and is now live, was the agency's pitch work. She says it is "a great start" and that the 90-second spot "has got the pace of The Sun to it - it feels like you're almost turning the pages to the paper in the ad itself". She praises Leonard and Dave Monk, who together came up with the "get involved" idea. But she can't remember Monk's surname. "I just call him 'creative Dave'," she says with a chuckle.
Vanneck-Smith talks convincingly about how a leaner, integrated agency set-up is essential for News International when publishing is going through a painful transition process. "I think the smartest brains need to work on this whole challenge together," she explains. "I'm very happy to take Nils into meetings with my chief executive, Tom Mockridge, because we don't want an arm's length relationship.
"We don't have the time to worry about things - we just need to get on and do it."
Around 40 people from Team News are based at News international's offices at any one time, which allows for this closer relationship that Vanneck-Smith seeks.
Jessica Burley and her "genuinely innovative and brave" team at M/SIX also impressed. Vanneck-Smith is excited about a different media strategy the agency has planned for driving sales. Out goes the traditional midweek TV spot to push the weekend sale and in comes what she believes is a smarter and faster route - essentially, any digital media where you can deliver content via an API, such as an app or digital out-of-home media. "It's the fastest way to mirror driving sales with the content. You're marketing your world-class journalism every day," she says.
With the closure of News of the World a recent memory and the Leveson inquiry at the forefront of the public consciousness, Vanneck-Smith arguably has the toughest marketing role in the UK. She says it feels that way but not because of the reasons above: "The past 12 months have been the toughest I've had in my career but, actually, the reason is that we're grappling with tough economic times; we're having to fundamentally transform who we are and what we do in a very short period of time, and work out what our future business model is."
Vanneck-Smith is sharp (she studied at Oxford) and stridently confident, in the way that hockey captains from posh schools grow up to be. "She's very savvy," one agency executive says. "I think she was very much in Rebekah Brooks' entourage. But there's no way you can survive so long at Wapping without being light on your feet."
Another executive says: "I respect her because she's really tough. She's a bit like a bloke in that way - she can be quite abrasive and she doesn't suffer fools, but she's fiercely loyal."
Vanneck-Smith certainly works hard, having delivered the marketing strategy for the launch of The Sun on Sunday within hours of Rupert Murdoch announcing he would be launching the paper in February - something she describes as "a historic event". And she is bullish about delivering what her readers want. But was it the right move for The Sun to publish the naked Prince Harry pictures when the Leveson inquiry is scrutinising the tabloid press to an inch of its life?
"We saw over 120,000 extra copies sold of that issue," she says. "The only people that I will be judged by are my customers, and if my customers like what I serve up and we can market that, then that's great." Murdoch would approve.
THE LOWDOWN
Age: 38
Lives: Maida Vale, London, and Slindon, West Sussex
Family: Husband, Nick Smith, and son, Stanley (two)
Hobbies: Scrapbooking - I am currently completing The Times and The Sunday Times Olympic Scrapbook with Stan
Currently reading: The Psychopath Test by Jon Ronson and Thinking, Fast And Slow by Daniel Kahneman
Alternative career: A founder and head of a free school
Always in the fridge: Lurpak Spreadable
Famous person you'd like to meet: Maggie T in her heyday
Mantra: There's no such word as can't