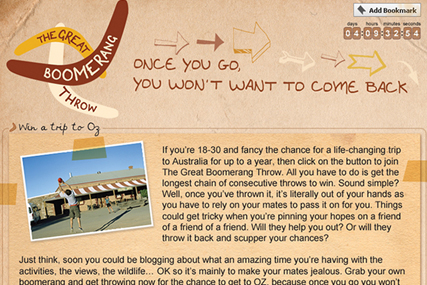 The campaign, by Touch DDB, launches this week and encourages Facebook users to throw a virtual boomerang in the form of an app.
The app has to travel via a number friends before returning to the first person. Whoever manages to "throw" the boomerang the greatest distance wins. Users can watch the "flight" of the boomerang via a map showing its progress.
The winner receives a lengthy holiday in Australia, including a month's work placement at the Prairie Hotel in southern Australia.
Tourism Australia UK general manager Rodney Harrex said the promotion will help to increase the number of people it converses with on sites like Facebook.