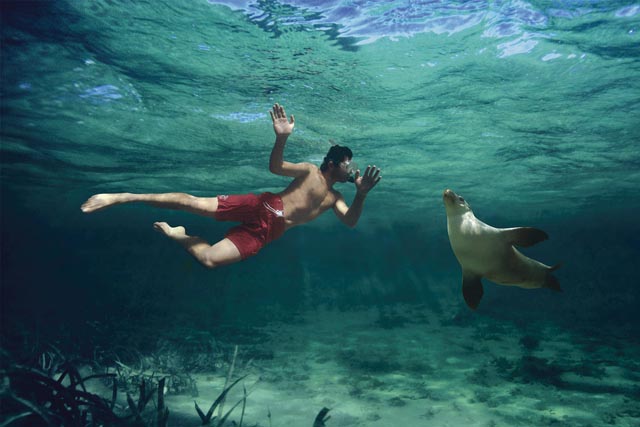 The competition originally ran back in 2009 and was a huge publicity hit for Tourism Queensland. It attracted more than 35,000 applicants for the post, which was to act as a caretaker on the Great Barrier Reef's Hamilton Island.
To launch the 'Best Jobs', Tourism Australia (TA) has installed a pop-up surf club in London's Waterloo Station to spread the word among young commuters, and is working with STA Travel on campus promotions at 18 UK universities.
TA has also activated its social media channels and is pushing the campaign via Facebook and Twitter using the hashtag #BestJobs. The campaign has already generated thousands or likes and comments since going live.
The original competition was won by 34-year-old British contestant Ben Southall, who was picked from almost 35,000 applicants to be the island's caretaker.
Now TA, in partnership with six state and territory tourism offices, is inviting people to follow in his footsteps by applying for one of six jobs with job titles that will ensure thousands are likely to apply.
The jobs on offer are: lifestyle photographer (Melbourne); chief funster (New South Wales); outback adventurer (Northern Territory); park ranger (Queensland); wildlife caretaker (South Australia), and taste master (Western Australia).
Applications for the roles need to register their interest on Facebook or on the #Bestjobs website. Applicants will be notified as to the next stage in the recruitment process within 48 hours of registering.
The 'Best Jobs In The World' initiative is part of TA's major international focus on promoting Australia's Working Holiday Maker visa programmes. In the UK and Ireland, the Working Holiday visa allows 18- to 30-year-olds the opportunity to combine 12 months' travelling in Australia with incidental work, giving young people the chance to live the Aussie lifestyle, discover the country and earn a wage.
Andrew McEvoy, Tourism Australia, managing director said the promotion would provide a great platform to entice more young people from around the world to come to Australia to holiday, but also to work.
He said: "We've taken one of the most successful tourism campaigns in recent times – 'Best Job In The World' – and made it bigger and better by coming up with a competition which represents our breath-taking landscapes, our unique wildlife, great food and wine and, of course, our huge sense of fun."
Tourism Australia has secured a number of key partners to support the campaign, including Virgin Australia, STA Travel, Citibank, DELL, IKEA, Sony Music and Monster.com, who have created an online "jobs board", advertising temporary jobs within the Australian tourism industry, aimed at travellers visiting the country on a Working Holiday Maker visa.
Australia is still a big draw for Britons and last year alone there were a total of 41,712 Working Holiday Visas granted for the 12-month period ending June 2012, representing an increase of 7% compared to the same period the previous year.
The upwards trend is continuing in the UK, with the latest available figures for the Working Holiday grants showing an increase of 16% for the six months ending December 2012 compared with the previous year.
Follow @gordonmacmillan