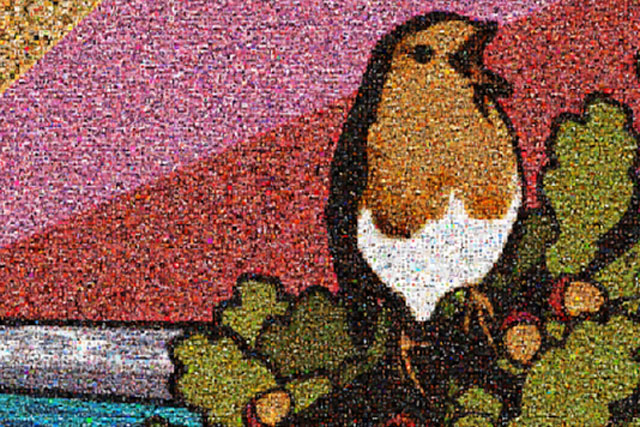 The 'Culture Wall' has been built from portraits submitted through a Tourism Ireland Facebook app created by Publicis London. Whenever a user uploaded a picture it was added to a digital image of the mosaic straight away.
More than 27,000 people responded to Publicis' initiative and the mosaic was rebuilt three times to allow for the volume of portraits submitted. The combined pictures create an image of a robin and the bridge at Derry.
The online image was then printed to create an 18-metre-long artwork on the wall in the city centre, near Market Street, close to the city walls. It is hoped that the artwork will encourage people to visit the city to see themselves on the wall.
Niall Gibbons, the chief executive of Tourism Ireland, said: "This unique piece of wall art has been a great way to allow everyone near and far to take part in this year's City of Culture celebrations and will provide a wonderful legacy of the year."
The idea behind the artwork was to bring people together and leave a lasting legacy in the city.
Local artist Domnall Starkie was selected to contribute to the artwork by Tourism Ireland. His work is known to provide a social commentary in a graphic style and his winning piece was seen to symbolise the cultural identity of Derry.
Publicis will take this campaign further by launching an updated version of the Facebook app where people can see the finished work and watch videos about its making.
Everyone who submitted a portrait will be automatically entered into a prize draw to win a trip to Derry and have the chance to sit for a portrait caricatured by Starkie.
Jason Cobbold, the deputy managing director at Publicis London, said: "We believe in leading change and this is about what brands do rather than just what they say. Putting this campaign into the real world shows this commitment.
"The digital reach and immediacy of Facebook allows a community of people to participate in something real and permanent."
The piece of art will be revealed today (19 December) by Martin Reilly, the mayor of Derry.