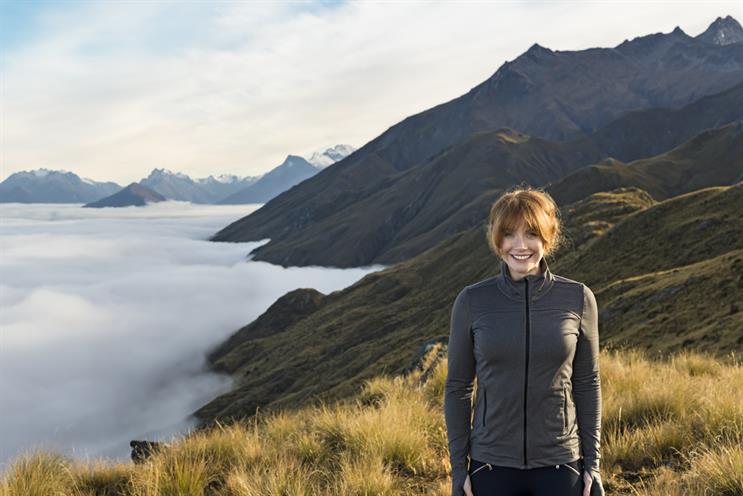 For more than 16 years, Tourism New Zealand (TNZ) has been running the same ad campaign, "100% Pure New Zealand." Today, the brand gives its marketing a refresh by hiring actress Bryce Dallas Howard to host its first travelogue series from National Geographic Travel Lab.
Dubbed "The Ultimate New Zealand Experiences," the digital series and accompanying website follows Howard through wineries, across mountains and along beaches as she returns to the country that she visited as a girl. It's the first video narrative to come out of National Geographic's content agency that formed last April; previously, the Travel Lab published slide shows, like "Top 10 Things to Do in Montana."
The goal of the series, said TNZ marketing manager for the Americas Vanessa Farquharson, is to convince those who live in Middle America and along the East Coast to visit the island nation.
"We've experienced significant growth in North America—31 percent year-over-year—thanks to unprecedented air connectivity with Air New Zealand, United and American Airlines," she wrote in an email. "With this, future growth opportunities exist beyond the traditional West Coast markets with domestic networks unlocking direct travel from Texas and the Northeast."
According to TNZ's internal research, 28 million people are seriously considering New Zealand for their next vacation, so the marketer's "challenge is to convert them into visitors." The reasons why they don't commit, Farquharson said, are misconceptions. They think the flight is too long—it's 12 hours overnight from Los Angeles. And they've only seen the country's mountainous terrain—not its beaches nor its wineries—courtesy of fellow New Zealander Peter Jackson's "Lord of the Rings" movies.
To combat this, TNZ partnered with National Geographic Travel Lab headed by Andrew Nelson, who is a regular contributor to its magazine. Nelson said the internal agency is building a team of "explorers," who are writers and photographers that will collaborate with hosts like Howard to produce series akin to Anthony Bourdain's many projects.
"We like to think of ourselves as digital Sherpas, guiding our audience to what is most unique and special about a place," Nelson wrote in an email. In the New Zealand series, Nelson and his team aim to highlight the fact that New Zealand is much more than the birthplace of bungee jumping, but they're cognizant of the custom content pitfalls, especially in the travel sector.
"Travel advertising always seems like it can stumble into the clichés of 'sugary, white sand beaches' and 'undiscovered gems.' That's not NG Travel," he continued. "We're not afraid of a little schmutz on our shoes because our travelers don't want a curated, umbrella-in-the-piña-colada experience. They seek out a journey or adventure that can move them—maybe even transform them."
Howard, known for her roles in movies like "Jurassic World" and "The Help," considers herself already transformed. She first visited New Zealand when her dad, director Ron Howard, filmed a movie on location.
"I was quite young when I first visited the country and wasn't even fully aware I was in New Zealand," Howard wrote in an email. Later in life, she revisited the country, and it "felt like this magical dreamland—a utopia—the people are so warm that it feels like coming home."
The campaign, which launches today, will be available digitally for nine months on National Geographic and TNZ's websites and social channels.