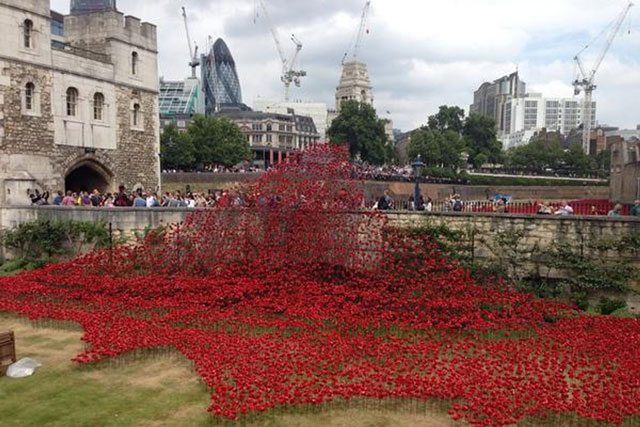 The installation, entitled 'Blood Swept Lands and Seas of Red', is made up of ceramic poppies and has been created by ceramic artist Paul Cummins, with setting by stage designer Tom Piper.
Poppies will be added to the piece, which will be completed on 11 November when the final poppy is planted.
Each of the poppies is available to buy, with proceeds supporting six Armed Forces charities.
#TowerPoppies pic.twitter.com/xlxK7QToPA

— Rebecca Brown (@rebeccabrown202) July 28, 2014
#TowerPoppies @thetowerlondon Commemorates WWI w art as military charity fundraiser at Tower of London: amazing! pic.twitter.com/jZcDbU2LNE
— Terry Anstine (@TerryAnstine)
July 31, 2014
At @thetowerlondon. Start poppy shift at 1.30pm #TowerPoppies pic.twitter.com/c431MTfGHw

— Merryjean Burgess (@tudorgurl) August 2, 2014