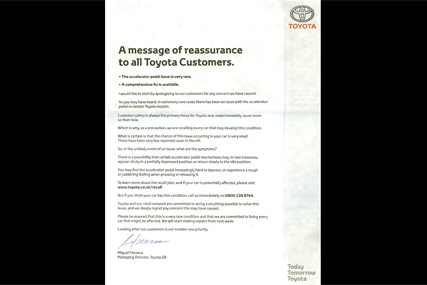 Almost a week after the problem arose, the car manufacturer is running a full-page ad in several national papers today (5 February), explaining why Toyota is recalling its cars and giving advice on what to do if faced with the issue.

The ad takes the form of a letter, signed by Toyota GB's managing director Miguel Fonseca, and carries the headline: 'A message of reassurance to all Toyota customers'.

The letter directs any worried consumers to call a dedicated hotline or visit the Toyota recall website, which has reportedly already received more than 10,000 visits.

Toyota has been forced to recall almost 200,000 vehicles in the UK that could be at risk from the engineering fault.

Models affected include the Avensis, Auris, Aygo and Yaris, and it has been suggested it will be at least another week before Toyota can begin repairing the faulty pedals.

When the problem arose last week, a spokeswoman for Toyota announced that it would not be launching any immediate above-the-line marketing to address the problem, instead opting mainly to communicate through digital channels.