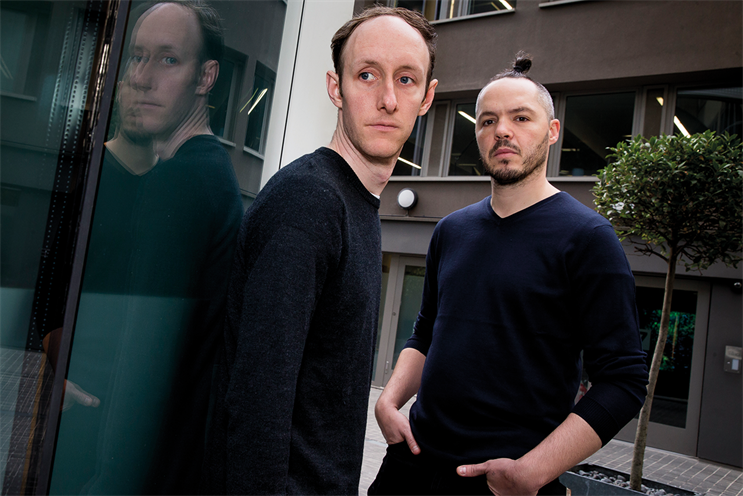 Winners: Tom Sillars (left) and Dani Asensio (right), creatives, The&Partnership (above) for Toyota's "You'll Be Fine"

Ellis: I chose this ad because...
… I bloody love listening. And not just to my own voice.
We have entered a new age of listening. Podcasts save my sanity at 4.13am. The Odditorium. How to Fail. Scriptnotes. Evil Cunning. Histories of the Unexpected. Inventive. Mind-expanding. Intimate. These are human beings talking with me, not at me. The subtle difference makes good radio all the more profound.
Where is that voice in the radio ads we listen to? Why do we need punchlines when a story, well told, may be as powerful? So the winner from this month's selection is an ad without a punchline. It paints a picture. It gives me zombies. And, more importantly, it lands the killer USP: tensile steel.
This is a few seconds of well-scripted drama. Come the apocalypse, make mine a Toyota.
How would you encourage creatives to 'See radio differently'?
Words to the wise
Use a different voice. In the 1960s, Fred and Wilma from The Flintstones described cigarettes and mattresses on radio, as if you were just listening in to their unanimated lives. Today, Adam Buxton sells me Squarespace without conforming to radio ad tropes. Forget ad-dy bollocks.
Connect to your audience
Create intimacy. Yeah, there are people listening to radio booming out on construction sites. But there are those listening through headphones. Respect that close proximity.
Listen... I will say this only once
Voice is the new visual. Alexa. Google Assistant. Siri. Bixby. Voice is navigating us through the world. Soon enough we'll be conversing with radio ads. Get writing, it's the future.
Winning ad: Toyota "You'll Be Fine"
SFX: The white noise of a radio being retuned, followed by a short announcement fanfare/siren.
VO: (slightly exhausted and somewhat fearful, like someone who has been living through a zombie apocalypse)
This is the survivalist network. It's Z-day plus 17... I haven't slept for days.
My zombie neighbour just tried to bite my arm off. Luckily, he couldn't get his infected fingers past the high tensile steel of my Toyota Hilux Invincible.
That £296 per month plus initial rental is feeling like excellent value now...
Get to a Toyota Hilux Invincible. You'll be fine.
Legals
Credits

Creative agency The&Partnership
Client Toyota
Creative director Dominic Gettins
Creatives Tom Sillars and Dani Asensio
Account director Natalie Carpenter
Producer Ollie Creamer
Production company Grand Central
Editor Aaron Tassel
Voices Stephen Mackintosh, Fleur Keith
Could you do better? Enter your work at aerials.co.uk
The Aerials are awarded monthly by Radiocentre to the creative team behind the best work entered at aerials.co.uk and chosen by an invited creative-director judge.