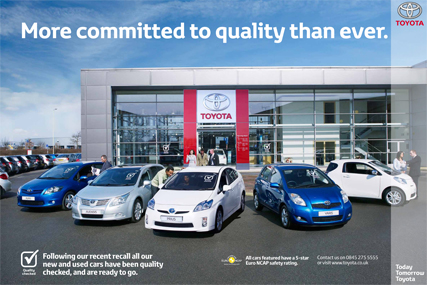 The recall was announced today (10 October) and is likely to prove a huge dent to the Toyota brand. It comes three years after a previous recall which affected 9 million vehicles worldwide.
In total, Toyota is to voluntarily recall 7.4 million of its vehicles globally, which includes some of its Corolla, Yaris and Camry models.
Toyota said there had been one reported case of a faulty electronic switch in the UK, but stressed there had not been any reported accidents related to this issue.
Those models which are to be recalled in the UK are Toyota's Yaris, Auris and RAV4 models, but not the Corolla.
The Japanese car marker is now taking urgent action and said it would be contacting all the affected car owners in the UK, asking them to bring their vehicles in to be checked.
Across Europe 1.39 million cars are to be recalled, 1.4 million in China and 2.47 million in the US.
The recall is the second major voluntary recall in three years. Toyota was forced to recall 9 million vehicles worldwide due to unintended acceleration from faulty pedals in late 2009 and early 2010.
In a statement, Toyota described how the latest problem related to the continued usage of the electric window switch, which "may over time begin to feel uneven or notchy when it is operated. Continued operation in this condition may cause the switch to become inoperable.
The switch is not designed to be lubricated with commercially available lubricants."
The statement added that if lubricants are applied to the switch, "smoke could occur and lead to a fire under some circumstances".