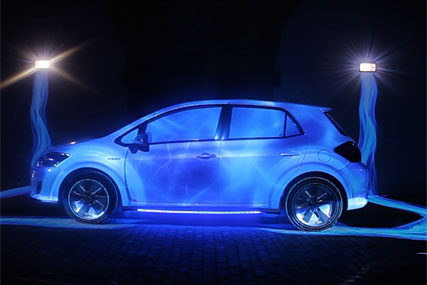 The film launches on Thursday (7 October) and is designed "to portray the vehicle's extraordinary ability to constantly recycle the energy it uses".
The 3D projection will show the car transforming its bodywork, peeling back to reveal a glowing blue light, which is meant to symbolize the car's hybrid energy, according to the agency.
The promotion goes on to show energy escaping from the car as it "energises" objects in the surrounding environment. The energy is then drawn back into the car, demonstrating how the Auris Hybrid gets its energy back and delivers exceptional fuel economy.
The documentary-style spot was shot in one take on location in a tunnel in London's Shoreditch area.
The film will be seeded via digital channels, including Facebook and Twitter, and hosted on a bespoke site, www.getyourenergyback.co.uk
It has been produced by glue Isobar's digital film unit, Superglue, which counts Gavin Rothery, the visual effects expert behind the special effects on Bafta-winning film 'Moon', as one of its team members.
John Thomson, marketing director for Toyota, said: "The latest advertising film for the Toyota Auris is the perfect creative illustration of the innovative hybrid technology behind the Auris.
"The ground-breaking use of projection mapping in the film has produced an incredible piece of creative that reinforces Toyota's unique position as a clear technology leader in its field, as well as our commitment to promoting sustainable driving."
Seb Royce, executive creative director at glue Isobar, said: "This was a fantastic brief to work on and the hybrid technology itself provided us with the inspiration for the use of the filming technique. We are thrilled to showcase this ground-breaking film."