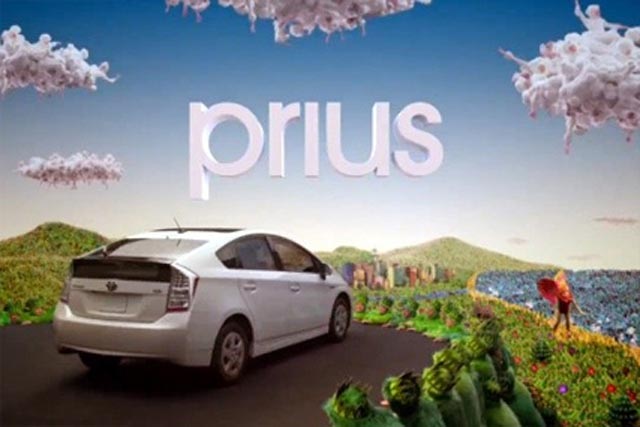 The research, called Best Global Green Brands, combines public perception of environmental sustainability with performance on publicly available information and data. It covers the US, Japan, China, Germany, France, UK, Italy, Brazil, Spain, and India.
The report said: "Its [Toyota's] high perception score is in large part due to the iconic status of the Prius, which has become synonymous with hybrid vehicle. And yet, even beyond the Prius, Toyota has made an effort to enhance its eco vehicle development reputation, as demonstrated by its 2010 partnership with [electric car manufacturer] Tesla.
"Additionally, on an internal level, it continues to embark on company wide initiatives to improve environmental performance each year."
The stationery company 3M took second place, while Siemens came third.
The survey also found that for a number of brands, there were large gaps between performance and perception.
L'Oréal, Nokia, and HSBC all scored significantly higher in performance than perception, suggesting that while they are doing effective programmes internally in terms of environmental sustainability, they are still not communicating their efforts to consumers.
Conversely, McDonald's, GE, and Coca-Cola all scored significantly higher in perception than performance.
The foundation of the ranking is Interbrand's 2010 Best Global Brands report, as these brands have a global presence and a demonstrated record of delivering value to stakeholders.
Jez Frampton, global chief executive officer at Interbrand, said: "As corporate citizenship increasingly becomes the norm, green initiatives may be among the most visible and easiest to claim and yet, can be the most challenging to deliver performance against.
"We believe the strongest green brands lie at the intersection of performance and perception: their ability to build stronger connections with consumers as a result of actionable and credible environmental practices."
| | | | | |
| --- | --- | --- | --- | --- |
| Ranking | Brand Name | Sector | Scores | Gap* |
| 1 | Toyota | Automotive | 64.19 | -7.64 |
| 2 | 3M | Diversified | 63.33 | 0.74 |
| 3 | Siemens | Diversified | 63.08 | 6.44 |
| 4 | Johnson&Johnson | FMCG | 59.41 | 2.35 |
| 5 | HP | Electronics | 59.06 | 12.88 |
| 6 | Volkswagen | Automotive | 58.9 | 1.82 |
| 7 | Honda | Automotive | 58.85 | -11.11 |
| 8 | Dell | Electronics | 58.81 | 11.08 |
| 9 | Cisco | Business Services | 57.66 | 15.07 |
| 10 | Panasonic | Electronics | 57.32 | 12.68 |
| 11 | Hyundai | Automotive | 57.18 | 11.28 |
| 12 | BMW | Automotive | 56.81 | 4.9 |
| 13 | Apple | Electronics | 56.43 | -0.48 |
| 14 | Danone | FMCG | 56.15 | 1.39 |
| 15 | L'Oreal | FMCG | 55.84 | 22.68 |
| 16 | Mercedes-Benz | Automotive | 55.24 | 2.63 |
| 17 | Nike | Sporting Goods | 54.94 | 7.83 |
| 18 | Sony | Electronics | 54.73 | 4.84 |
| 19 | IBM | Business Services | 54.68 | 13.93 |
| 20 | Ford | Automotive | 54.67 | -13.61 |
| 21 | Allianz | Financial Services | 54.55 | -0.13 |
| 22 | Nokia | Electronics | 54.51 | 17.26 |
| 23 | Adidas | Sporting Goods | 54.48 | 7.48 |
| 24 | GE | Diversified | 54.24 | -23.17 |
| 25 | Samsung | Electronics | 54.06 | 11.76 |
| 26 | Intel | Electronics | 53.89 | 10.63 |
| 27 | Coca-Cola | Beverages | 53.38 | -19.61 |
| 28 | Canon | Electronics | 53.13 | 7.46 |
| 29 | Pepsi | Beverages | 53.04 | -1.98 |
| 30 | Microsoft | Computer Software | 53.02 | -8.69 |
| 31 | Xerox | Electronics | 52.61 | 14.27 |
| 32 | Philips | Electronics | 52.58 | 9.88 |
| 33 | Shell | Energy | 52.47 | 4.07 |
| 34 | Caterpillar | Diversified | 52.08 | -6.06 |
| 35 | Campbell's | FMCG | 50.94 | 6.9 |
| 36 | Kellog's | FMCG | 50.81 | -16.14 |
| 37 | Avon | FMCG | 50.36 | 0.92 |
| 38 | SAP | Business Services | 50.16 | -0.2 |
| 39 | IKEA | Home Furnishings | 49.32 | -16.64 |
| 40 | Santander | Financial Services | 49.26 | -5.7 |
| 41 | AXA | Financial Services | 48.39 | -2.72 |
| 42 | Starbucks | Restaurants | 47.99 | -13.01 |
| 43 | Nintendo | Electronics | 47.78 | 8.23 |
| 44 | Credit Suisse | Financial Services | 47.07 | 6.25 |
| 45 | McDonald's | Restaurants | 47.06 | -27.96 |
| 46 | Citi | Financial Services | 46.97 | 11.81 |
| 47 | Barclays | Financial Services | 46.9 | 7.13 |
| 48 | HSBC | Financial Services | 46.54 | 15.86 |
| 49 | UPS | Transportation | 46.12 | -9.79 |
| 50 | Accenture | Business Services | 45.76 | -13.18 |
Source: Interbrand
*between performance and perception