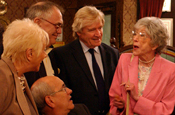 Total television ad revenue is predicted to be down by between 17 and 18 per cent across January to March, according to unofficial figures from broadcasters.

Industry sources predicted that ITV1, home to shows such as Coronation Street and The X Factor, would see its ad revenues decline by 22 per cent across the quarter, while Five, which experienced a difficult trading season and stand-offs with some media agencies, could be down by as much as 32 per cent.

Channel 4, which is less exposed to the downturn than its rivals because it rolled over a number of two-year trading deals covering 2008 and 2009, is expected to see first quarter ad revenues fall by 14 per cent year on year.

Meanwhile, agency sources said that the stand-offs that emerged during the winter TV trading season had been settled.

OPera, the trading arm of the Omnicom agencies OMD and PHD, has agreed a deal with Five but it is understood that ads from OPera clients will be not be aired on Five's channels until March.

VivaKi, the trading unit of the Publicis agencies Starcom MediaVest Group and ZenithOptimedia, also agreed a deal with Five, while Reckitt Benckiser, a client of OMD UK, has settled terms with Channel 4.