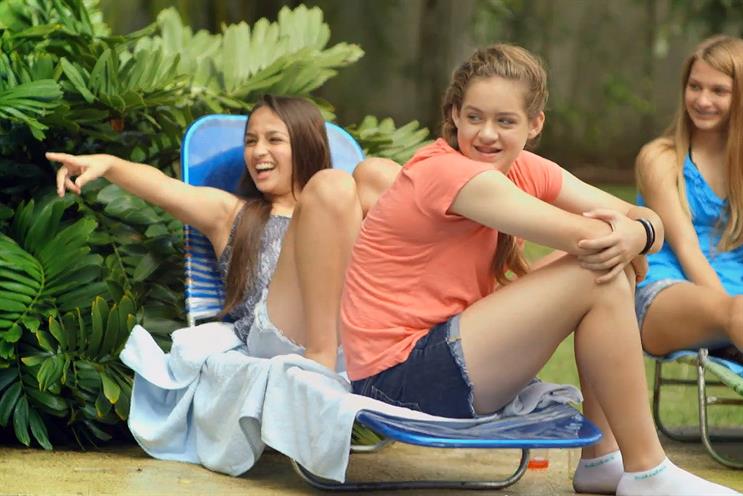 Jazz Jennings is a natural choice for the latest installment of Clean & Clear's #SeeTheRealMe campaign.
The dynamic 14-year-old was named one of Time magazine's "25 Most Influential Teens of 2014." She's a YouTube sensation who will star in her own reality show this year. In short, Jazz represents the sort of self-confidence the Johnson & Johnson brand seeks to inspire Jazz's peers entering the skin-care market.
Like other girls in the campaign, Jazz has traveled a challenging path to adolescence: In her case, she was assigned male at birth.
Jazz's Clean & Clear sponsorship is the latest in a gradual move by brands to include transgender people in mainstream advertising.
Even as major brands have featured same-sex couples in campaigns for general audiences, many are still assessing how to include the "T" in LGBT.
Kacey Dreby, the group brand director for Clean & Clear, emphasized that Jazz's story is relevant to all girls seeking to find their place in the world. "#SeeTheRealMe encourages courage among teen girls by portraying girls who are their real selves every day. We feel like Jazz's story of being authentic to who she is is relatable to all teen girls.
"One of the things that's very important is to reflect the diversity today's girls see in their world," Dreby continued. "We've featured everyone from Demi Lovato to a girl named Sarah who immigrated from India and faced challenges here." In Jazz's case, she speaks forthrightly about overcoming social isolation to make friends and appreciate who she is.
Clean & Clear's inclusion of Jazz Jennings has sparked headlines because she is one of the rare openly transgender people featured in a mainstream campaign. Marriott International in June 2014 included transgender model and advocate Geena Rocero in its #LoveTravels campaign targeted at LGBT media, and Barney's New York in January 2014 unveiled its spring campaign featuring 17 transgender models.
Transgender challenges
However, transgender inclusion in media imagery remains a challenge, according to Ellen Kahn, director of the Children, Youth and Families Program at the Human Rights Campaign in Washington, D.C. "I think it's very bold and exciting when brands show same-sex couples with kids," she said. "But for the most part, I think same-sex parents with kids are becoming more common — it's not as loaded as it used to be." Increasingly, US consumers have become aware that they know someone gay, and that's made it easier for same-sex couples and families to participate without remark.
Read: Heritage brands open door for LGBT families
Marriott International featured Geena Rocero in its #LoveTravels campaign.
By contrast, "What's really striking about Johnson & Johnson doing a campaign with an out transgender girl is that most people don't know — or don't know that they know — transgender people," Kahn continued. What's more, "a lot of portrayals of transgender people have been done in a kind of mocking way" that's no longer acceptable when portraying other LGBT individuals.
The Clean & Clear ad knocks down those barriers, Kahn said. "Jazz's peers and parents are incredibly supportive. Having this young person who sort of embodies what it means to be authentic, accepted loved, living and thriving — that's a very new, very bold direction for transgender visibility.
"Clean & Clear has provided a very positive platform for a young, transgender girl to be able to tell her story," Kahn said. "It's also very important for other parents who may be trying to find their way to acceptance of their own transgender child that having supportive parents is a crucial part of their child's success."
Joe Landry is executive vice president, publishing, at Here Media, which owns such renowned LGBT titles as Out magazine and the Advocate. He concurs with Kahn about the special challenges that have faced the trans community. "Ten years ago, even the gay organizations weren't ready to take it on," he said. "There's been tremendous, tremendous progress in the past four or five years. That's an amazing cultural shift — how did that happen?
"My best friend is trans, and it was certainly not cool at all for most of her lifetime," Landry said. "I've seen her go through so much that it's very satisfying to me" to see new opportunities for transgender people.
"It's about being proud of who you are, and Jazz is a perfect example," Landry said. "She's living an authentic life." (Landry noted that Jazz is the youngest person ever to make it onto the Advocate's "40 under 40" list.)
My generation
According to Kahn, the target generation for #SeeTheRealMe is ready to hear the message. "Teens and 20-somethings are extremely accepting; they have LGBT friends and know kids transitioning in school. Plus, they're growing up with people like ["Orange Is the New Black"'s] Laverne Cox on TV.
"Jazz's generation is being shaped in a very different way, but it's largely because of people like Jazz. She's one of those people who's really making that change as we speak."
"Authenticity — people living their true selves — the next generation really thinks that's cool and aspires to that," added Here Media's Landry. In fact, Here is launching its first brand specifically for young people — and hoping its appeal extends beyond narrow definitions of LGBT. Slated to launch in May, Pride.com will be a social-media property aimed at 18- to 24-year-olds who support the LGBT community but are not necessarily defined by it. "We're not limiting it to the alphabet," Landry said. "It's about a point of view."
HRC's Kahn noted a relationship between companies that support their LGBT employees and brands that portray LGBT individuals in a natural way. "Johnson & Johnson is actually one of the corporations that scores 100% in HRC's Corporate Equality Index" for inclusivity. "It's walking its talk by very intentionally including Jazz. It does fit into the company's commitment to diversity inclusion."