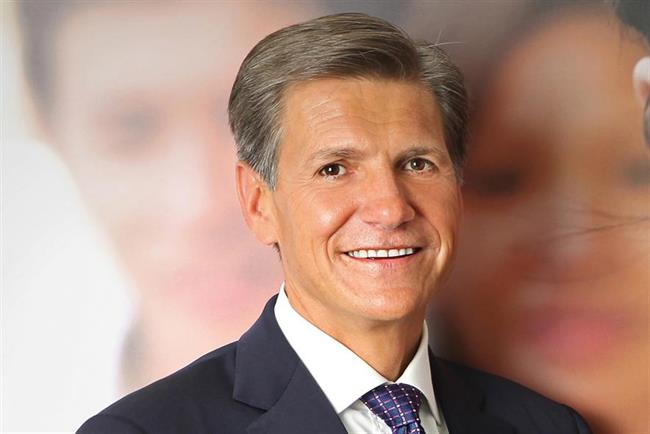 It's been hard to avoid Marc Pritchard over the last 12 months. If he hasn't been demanding action on the "crappy media supply chain" then he's been talking about equality and the coming transformation of the marketing model.
In a series of keynotes at the US IAB, Association of National Advertisers and Dmexco, he has been as much a spokesman for the whole industry as he has his company.
It's the response to his call for more media transparency that he cites as one of his most proud achievements this year, pushing media agencies and vendors to improve transparency, brand safety, fees and viewability.
He reports that his demands have been "largely done" and that most of the work completed has made things a lot more transparent, praising the likes of Facebook, Google and Twitter for their efforts to step up.
Marc describes his initial speech to the IAB as a response to concerns of other market participants. "A lot of brands, a lot of CMOs were saying, 'we are spending more and more money and seeing less and less. We feel that we have no leverage, prices are going up and ROI is going down, with greater and greater degrees of uncertainty'," he says.
Being humble
That original presentation not only carried P&G's big stick and the threat to "vote with our dollars" but also humility, admitting that even one of the sharpest knives in the marketing drawer had been "lured by the shiny objects too".
"I think the reason why we chose to be humble about it is that by doing so gave permission to everyone to deal with it," he says. "Saying P&G has its own issues gives everyone a little bit of emotional safety to say 'me too'."
He argues that the time had come for action. Digital media had turned 21 – "by most standards that's adulthood" – as well as becoming the leading medium, representing approximately $200bn out of a worldwide total marketing spend of $600bn for the whole industry.
But if this inside-the-beltway issue has been attracting much praise, his second big achievement in 2017 is focused on equality and diversity in a way that not only appeals to P&G's primarily female customer base but also allows the company to use its voice in advertising as both a force for good and a force for growth.
On gender equality that means making sure P&G's advertising is representative of women, while also positive towards men via campaigns such as Ariel's Share the Load and SK-II's activism.
At an industry level, it means supporting the ANA's #SeeHer movement, the #Unstereotype Alliance and the CEO Action for Diversity and Inclusion.
The beauty of advertising is that you have an impact on popular culture



Making this approach credible means identifying a genuine insight for each brand so "we have a much better chance of being able to talk about it". Often that might mean addressing an issue through a mum's lens to create positive conversations such as those initiated by #LikeAGirl.
More controversially, P&G has also used similar approaches to address racial equality, potentially a divisive issue in the US, with The Talk, a two-minute film featuring black mothers talking to their children about racism. "This sparked an important conversation, the time was just right around issues in Charlottesville. It was really important for people to talk about that," he says. "The beauty of advertising is that you have an impact on popular culture. If you can respond, communicate a point of view and your brand has the equity to discuss that view then people are willing to have this positive conversation."
This approach fits with Pritchard's broader definition on brand purpose, one that includes citizenship and gives P&G brands a menu of areas from which they can select the most appropriate place to take a stand, be it diversity, equality or environmental standards, for example.
"Every brand extracts from the menu and decides what they want to do and what makes the most sense for their brand," he says. Fabric care brand Tide, for example, has a big push on sustainability while SK-II has been focused on gender equality in China where traditionally women were seen as "leftover" women if they weren't married by 27.
Pritchard argues that efforts on transformation, equality and citizenship will help drive growth for P&G and the wider economy. "Just getting equal wages for women adds huge growth to the economy," he notes.
Spotting local nuances
Brand efforts focused on areas such as environmental sustainability, reducing water usage, minimising energy use, reducing packaging and reducing waste, are equally as good for business as they are for the planet.
As a global marketer, Pritchard doesn't run reviews but engagement sessions with his teams around the world putting himself and his 35 years' experience at their service on his travels.
What he focuses on is helping teams identify the local nuances and insights that can then be applied to the classical model for building brands and businesses. "One of the things that I do a lot of is ask about local insights, what's locally the most important?"
That, he says, was how P&G boosted its business in China, reducing its exports of global work over the last five years and making its brands locally and culturally relevant but also by creating partnerships such as with Alibaba and Jing Dong.
His vision for the future, or at least the next 18 months, is to make possible the arrival of one-to-one precision marketing at mass scale. A transformational approach to marketing that requires brands to think deeply about how they become useful to consumers.
He uses the example of a newly-pregnant woman searching on Google for information, which opens the door to relevant and helpful content from a brand such as Pampers. It creates a one-to-one relationship that provides information, education and assets and rewards throughout pregnancy and until the time that the child stops using nappies.
"This is the biggest transformation that can come to marketing communication. If you focus on being useful to the people you are serving, everyone will benefit," he says.
---
The other nominees for the WFA's Global Marketer of the Year, in association with Campaign, are: