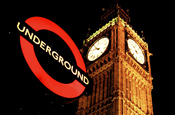 Transport for London announced that it is looking for an agency to help it with ideas to raise more money from advertising.

And it said that one option already being looked at is to lift the historical policy of not allowing Tube station sponsorship.

Speaking to Campaign, TfL's group marketing director, Nigel Marson, said: "One could imagine that a business like Selfridges or Harrods would put a value of hundreds of thousands of pounds on the sponsorship of their nearest station.

"It would not take many of those deals to reach a figure in the millions."

Marson said other options included sponsorship for road safety initiatives, and the sale of real-time travel information to sat-nav companies.

The thinking signals a new direction in advertising policy for TfL, following the election of Boris Johnson as Mayor earlier this year.

The ad agency selected by TfL as a partner will help develop more ideas to optimise ad revenue, as well as pricing the suggestions.

Marson said: "The trick is valuing the opportunities properly. We are spending taxpayers' money in order to reap more money to plough back into investment, so we must get best value."

TfL has published an OJEU notice and Marson said he anticipated the agency will be in place by March 2009.