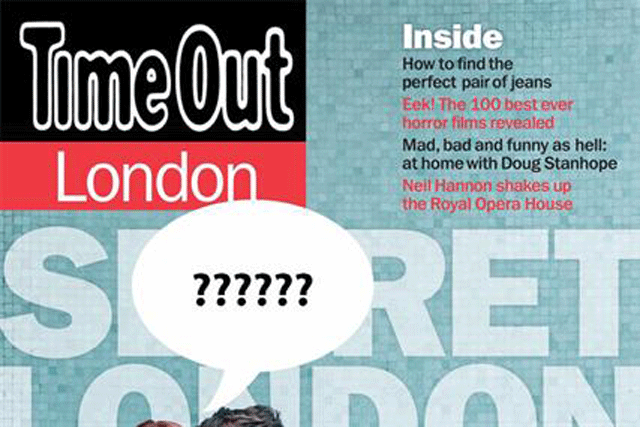 When the capital's weekly listings magazine, Time Out, announced it would be going free later this year, London's free-sheet owners sensed that maybe now, the last remaining stigma associated with "editorial gratis" would finally be removed.
City AM's commercial director, Harry Owen, says: "This debate has gone on for too long now.
"This sense of us and them is no longer relevant. You wouldn't find anyone questioning the value of ITV's audience or content would you? Together with quality news-based titles such as the London Evening Standard and the Metro, we've moved the debate on. Advertisers are more interested in our distribution plans now."
Rufus Olins, chief executive of Newsworks (formerly the Newspaper Marketing Agency) agrees: "The world has changed significantly since the last days of London Lite and The London Newspaper. The rules of what constitutes valued commuter media have been rewritten.
"The Evening Standard's switch from paid-for to free distribution almost three years ago is a fantastic example of how a product can move from one model to the other and be successful. Its circulation went from 250,000 to 600,000 overnight."
Vanessa Clifford, Mindshare head of press, concurs, "Freemium is now an established model," she says. "It stands for quality content that is widely distributed for free. It's highly regarded by an advertiser base focused on the greater nuances of targeting."
Time Out's decision therefore, appears to be, well, timely. Almost 45 years after it launched its flagship London edition for a shilling an issue, the company's assessment of the free-sheet market partially concludes that a boost in circulation, coupled with a hike in advertising rates, will counter the loss of today's £3.25 cover price.
Tim Arthur, editor-in-chief of Time Out UK, says: "We've discussed this for a good few years and spent the past nine months researching it among focus groups.
"It has been tough on the newsstand, but with 32,244 paid subscribers, we're still a profitable magazine. This decision has not been driven by decline, it's been driven by opportunity. It will complement our multiplatform digital presence, which includes free iPad, iPhone and Android apps, as well as the website. It feels like the right time and we've been encouraged by the success of the London frees."
At its peak in the mid-1990s, Time Out sold around 110,000 copies, more than double its most recent ABC audit for the first six months of 2012 (52,198).
Come the autumn, more than half of the 305,000 free copies will be handed out on a Tuesday morning by a team of 200 distributors spread across central London's Underground and mainline rail stations.
Stylist is distributed on a Wednesday, ShortList on a Thursday and Sport goes out on Fridays. Time Out will also be available at cultural venues, such as Tate Modern and in coffee shops.
However, publishers who already play the numbers game know that circulation is only one part of a successful freemium formula.
City AM ramped up its circulation by 30% to around 132,000 copies in May. Some 35,000 additional copies have increased the business newspaper's footprint in Kent, Surrey and parts of south London. The strategy, according to City AM's commercial director Owen, is to make the newspaper more widely available.
He says: "After all, 60% of our web traffic already comes from outside of London. The aim is to develop the brand into the number one global source of City-based news within the next two years.
"Getting the distribution right is half the battle both online and in print. City AM produces unique content that taps into a worldwide need for City knowledge. Brand strength and heritage won't be enough for Time Out. It'll need to find its niche and offer the same trusted editorial assets as we provide.
"It needs good columnists, original and trusted editorial and the ability to build an audience who won't simply be able to find the same information elsewhere online."
City AM's fastest-growing advertiser sector is luxury. In May, car marque Lexus signed a two-year deal to sponsor City AM's annual awards, which Paul Marshall, general manager of marketing and strategy at Lexus called, "an excellent opportunity for Lexus to associate itself with the best individuals and companies in the City."
Owen says: "These advertisers, who may have traditionally looked to the glossies for brand presence, are now focused on buying a more targeted audience. We're achieving this with a mix of live and online opportunities.
"Free media has to show it's reaching the right demographic. It will be interesting to see how much of an appetite there is for Time Out's huge increase in circulation."
Most media agencies have now met with Time Out to discuss its plans. The consensus is that the magazine will adopt a format closer to Shortist and Stylist, which resonates more with a female audience.
In-mag listings will only be topline and new, opening, or last-chance-to-see, and the film section will move closer to the front of the magazine.
"They don't want it to be a straight advertiser choice between Sport and Time Out, for example. So I think it will lean more towards a broader Shortlist-type advertiser base," says Zenith Optimedia head of press Dave Mulrenan.
"That's going to be hard to achieve. ShortList and Stylist have established tie-ups with advertisers that feature cover wraps and other tested ad solutions. For Time Out to expand from a core base of film and alcohol brand advertising, it'll need to introduce first-time, free-sheet advertisers who are attracted by the brand and its new circulation numbers.
"For the first-time advertiser to have a positive experience, Time Out will need a nailed-on concept, with a strong digital package offering."
Time Out's Arthur responds, saying: "Yes, we're refreshing the magazine and making a few structured changes. Online, we already attract more than five million unique views. Time Out won't be a Tube ride-only read. We'll be adopting a more Stylist approach and providing our readers with longer articles, so that they can read the magazine throughout the week, go online and refer to the trusted, informed and intelligent opinion they've always relied on us for."
Both ShortList and Stylist do have the advantage of higher nationwide circulations, with ShortList distributing 529,000 copies and Stylist totalling 431,000 copies.
Stylist, for example is free in London, Brighton, Bristol, Edinburgh, Glasgow, Manchester, Newcastle, Leeds, Liverpool and Birmingham, as well as in French Connection stores, airport lounges, city centre offices and gyms during the week.
Time Out will be UK-wide online by next year, according to Arthur. There are versions of Time Out in 37 cities around the world, although all but three are licensed to third parties. Time Out Los Angeles and Time Out Paris will retain their cover price when Time Out London goes free.
Karl Marsden, managing director, ShortList Media says: "Each of our products has that all-important editorial niche, so that both readers and advertisers have a clear understanding of the value proposition.
"When advertisers compare Stylist with Grazia for example, there are clear differentials. The hard work is reflected in our success at the PPA Awards, with Stylist winning consumer media brand of the year and Stylist's Lisa Smosarski being named editor of the year."
ShorLlist.com and Stylist.co.uk can't claim to have an online presence in the same league as Time Out's five million uniques. But ShorList Media has developed its online presence over the past six months and optimising its websites for mobile has resulted in combined audience rises of between 20% and 30%.
Shorlist.com surpassed one million unique users recently, which equates to a 50% increase during the past six months. Time Out meanwhile, launched a free iPad app in July, which is sponsored by MasterCard.
Marsden responds: "We understand that to be competitive we will need to focus on apps as the next stage of our development, but we want to be clear what value an app will bring to our brands. The next generation of consumers won't respond to another 'me too', so we will only go down this road when we have a laser-like focus on what we're intending to achieve."
Time Out's app includes listings, critics' choice picks and editorial features, and is updated daily to ensure that users get the inside track on what's happening in the capital.
With the new kid moving onto the block soon, agencies are keen to see dummy copies before drawing too many conclusions. However, most agree that a boost in circulation alone won't be enough for Time Out to compete in a London free market that has had a huge head start in cultivating its products, advertiser tie-ups and distribution methods.
London's free magazines have enjoyed relatively little competition over the years, as each title sits within its own niche. With the arrival of a broad-base entertainment and listings bible, looking to shake things up on the streets of London, it could all be about to change.
Agencies and advertisers are watching with interest.