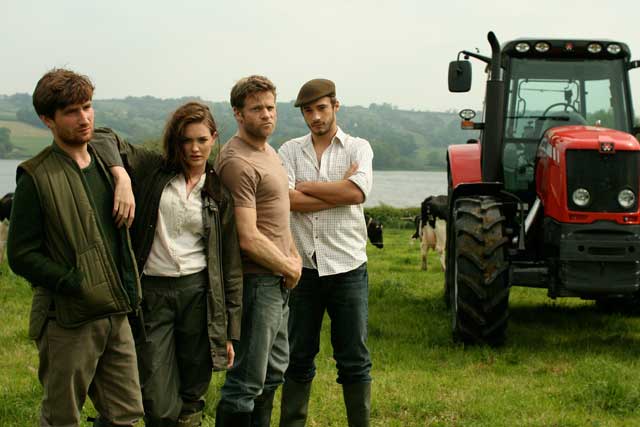 The possibility that advertisers and media owners would eventually conspire to cut out the agency middleman has been discussed in whispers for more than a decade now. Whenever the taboo subject is raised, agencies tend to become defensive, insisting that it's no longer an issue worthy of discussion, while everyone else paints a harmonious picture before lowering their voices and asking to speak "off record."
It's been this way since US drinks giant Anheuser-Busch entered the UK market towards the turn of the millennium, insisting on carrying out its own planning and buying. Instead of an anticipated tsunami of brands following suit however, Anheuser-Busch's "go direct" approach ultimately failed. Larger agencies then went about trying to eliminate the threat by broadening their services, buying up specialist agencies and opening trading desks to secure the greater margins associated with digital inventory.
By 2008, two years after a $52bn (£35bn) takeover of Anheuser-Busch by Belgium-based brewer InBev, the consolidated £23m UK media planning and buying account was up for grabs. It was won by Aegis-owned agency Vizeum, still responsible today for all AB InBev's core brands in the UK, including Stella Artois, Beck's and Budweiser.
Changing media landscape
So why has the "go direct" approach continued to attract so much interest over recent years? The overriding answer is to do with how the media landscape has continued to develop; the new complexities of buying and selling advertising; the increased involvement of media owners, as well as the emergence of digital.
In 2009, Fox's Biscuits began sourcing media opportunities directly, following growing dissatisfaction among those brands who believed agencies were guilty of only recommending opportunities that provided them with the greatest financial returns. A year later, Yeo Valley spent most of the money for its first TV campaign, which featured rapping farmers, on seven slots in 'The X Factor'. It was negotiated directly with ITV and at the time, observers believed that few media agencies would have pushed a client in that direction.
By 2011, some 10 buyers accounted for 80% of the money spent on British television and that activity was concentrated in six major holding groups – France's Havas and Publicis; the US's Omnicom and Interpublic Group, and the UK's Aegis and WPP. Advertisers generally didn't understand how their money was being spent and importantly, had very little idea of how agencies managed to retain some of the money through a complex system of discounts, commissions and media owner rebates.
While the number of advertisers disillusioned with agency practices grew, Ofcom launched a competition review of the TV advertising trading mechanism and expressed, "some concern that the advertisers are having to pay more than they would under a more competitive model."
In December last year however, Ofcom concluded that the industry had no case to answer and decided not to refer the market to the Competition Commission for investigation. Since then, agencies have been promising greater transparency, a more diverse range of services and better in-house expertise.
Dan Hagen, Carat head of planning says, "We've come a long way from the days of grey money and the industry has responded well to client demands for transparency. We sit down with new clients now and detail the challenges, the scope, the experience we have within the team to solve the issues, how much they get paid and where our profit comes from. We then negotiate around things like, 'do we really need that extra person working on this account?'"
In April 2012, Rank Interactive, the gaming company that owns Blue Square, Mecca Bingo and Grosvenorcasinos.com, appointed Carat to handle its £7m media planning and buying account. The bulk of Rank Interactive's media buying had previously been handled in-house and according to Hagen, at the time Carat took it on, Blue Square was already "going direct" with the Racing Post newspaper.
"We advised Blue Square to keep going," says Hagen. "It's a specialist area and they'd built up a relationship which was giving them the best value for their advertising buck so it was the right solution for our client. I'm quite happy for my clients to speak with media owners. In fact, the more a media owner knows the needs of my client, the better."
Meeting direct with advertisers
Nick Bampton, commercial director at Channel 5, says that he's met with more advertiser clients in the past two years than in the whole of the last 20 years. These meetings have, more often than not, been sanctioned by the agency and the resulting campaigns have agency planning and execution at their heart.
Channel 5 attracts around 3,500 advertisers a year and only 875 deal direct. According to Bampton, the direct deals account for around 1% of all TV advertising and usually involve long-tail advertisers or small companies having a dabble.
"Together with other Northern & Shell media assets, we have the capabilities to provide agency services in-house but the agency role is a more complex one now," says Bampton "There are so many new ad formats, behavioural trends and advertiser opportunities across the medium and these all need to be navigated and assessed. Our negotiations are less about money these days and more about how to do it better. Agencies look to us to provide key opportunities for value gain."
Ago Di Falco, the channel's director of partnerships, cites Northern & Shell's ongoing partnership with Shop Direct Group, the owner of Very.co.uk, as an example of a more modern day, collaborative approach between media owners, agencies and advertisers.
"It came about as a result of high level meetings between ourselves, Very.co.uk and their agency Carat last year and it's now entering its second annual cycle," Di Falco says. "Carat brokered the deal but it was important that all three parties could come together to agree solutions."
The deal, which originally included Very.co.uk sponsorship of Australian soap 'Home & Away' plus three-minute monthly ads featuring V Team Makeovers' of Facebook competition winners, came off the back of Northern & Shell Partnerships – a cross-media sales offer that promised more collaborative solutions when it launched in July last year.
Solving all client problems
In February last year, Bauer Media also launched a collaborative service called Bauer Access, headed up by Lucy Banks, former ZenithOptimedia creative director. Bauer Access provides advertisers and agencies with a direct route to editorial and programming across the media owner's magazine and radio portfolio.
Banks admits that, "I joined Bauer thinking 'sod media agencies, in-fact, sod creative agencies too'. In this exciting new dynamic of converging worlds where brilliant content and owning an audience is everything, we can partner directly with clients, and get the editorial and programming talent to solve all their problems.
"However, I quickly developed a renewed respect for the art of true planning and that essential, missing piece of the puzzle provided by great strategy," she continues. "We need to collaborate with great agency planners who can translate a brand's challenges and provide the framework of a strategy that uses the right media partners in the right way.
"Media owners are investing in a handful of former agency strategy types, and developing different relationships with media owners is absolutely the most exciting opportunity that exists to deliver disproportionate return for advertiser brands. But you need the holistic overarching plan. You need the 'what' and the 'why', before we can provide the 'how'. I can help a brand when they come to Bauer, but – incredible though this might seem – Bauer might not always be the best place for them."
Explosion of digital
Meanwhile, the explosion of digital media has resulted in agency trading desks dealing with far-reaching online inventory. They were set up to replicate independent networks and online exchanges that command greater margins and give advertisers the specialist tools to buy in-house. Some of the biggest brands in the US, such as Experian for example, now buy all of their display media without any agency involvement.
In the UK, 45% of brands are now buying paid search in-house, up from 38% in 2008, according to a report by Econsultancy published in May. The report also states that 55% of brands do their SEO exclusively in-house and a massive 70% of brands manage their social media by themselves.
Richard Sharp is UK managing director of the network ValueClick. He says, "Over 12 years we've developed exclusive deals with niche long-tail publishers such as gaming and special interest sites, so it's inventory you can't buy anywhere else. In that time, I've seen agency transparency improve but I've also witnessed agencies seek out new revenue streams from media owners. I don't believe you can serve two masters effectively and advertisers need to start holding their agency to account."
Advertisers learning to bark
Bob Wootton, director at advertisers' trade body ISBA agrees. He says, "Commissions reached such a low ebb that agencies started asking the media owners to pay for the lunch. It has snow-blinded advertisers still further. It's such a big ask to expect them to understand the media food chain, but with the landscape changing all the time, brands need to keep a dog ,but maintain an ability to bark themselves."
For as long as brands have increased options to go direct, and while the role of the agency continues to diversify, there will always be reason to speculate that the days of certain middlemen are numbered. Those agencies likely to thrive however, will be the ones who adapt the fastest, providing transparent working practices, technological solutions and invaluable data as part and parcel of the advertiser relationship.
There is no doubt that media owners are now involved with some clients' direct media-buying process. Still, determining which content partner to use and how to get the best results is a complex world, and, in many ways, best navigated by the experts.