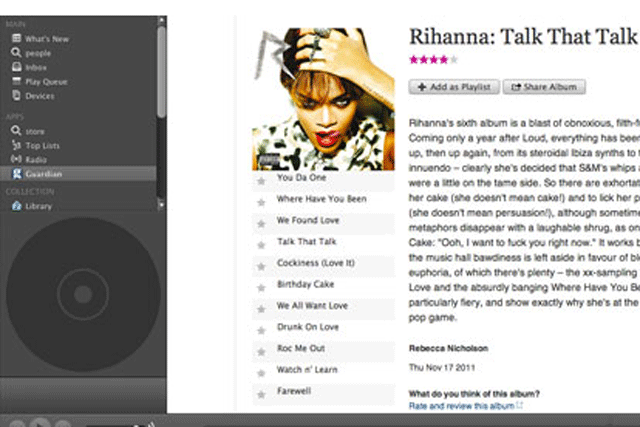 On 1 November 2011, a free app from Anthony Rose, the creator of the BBC iPlayer, launched onto iPad. The launch of Zeebox is significant because it has the potential to not only change the way we interact with social media, but also taps into the way social media users currently watch television.
On the surface, Zeebox looks just like any other interactive television guide. At a glance, you can see what's on TV and click through to more information about each programme. On closer inspection however, each programme listing offers real-time news and tags, plus built-in social features, which allow the user to discuss the programme with Facebook friends or see what viewers are saying on Twitter.
If you want to join in the conversation on Twitter, simply log in using your existing Twitter account, and tweet directly from Zeebox. It even automatically adds the correct hashtag.
Pulling in rich content from Wikipedia and from various news sources further allows the user to have associated programme and current affairs knowledge at their fingertips.
Plus, if you wish to buy related music, audiobooks or series DVDs, Zeebox offers it direct from iTunes and will shortly be incorporating related product links from other retailers such as Amazon and eBay too.
Forward-thinking functionality is evolving the social media landscape. Mainstream media owners seeking to monetise the time and resource they have invested in building online communities, sharing content and engaging with brand fan bases, are seeing huge potential and taking apps like Zeebox seriously.
Just two weeks after Zeebox launched, Channel 4 announced it would be giving viewers of new E4 series Desperate Scousewives a bespoke social TV experience, via the Zeebox app.
Channel 4 claims the partnership is being used by both parties to explore how the Zeebox app experience can be optimised by the introduction of specifically commissioned content.
As well as the aforementioned features, the broadcaster has worked with Zeebox to provide Desperate Scousewives viewers with a raft of additional tailored interactive content, linked from the app and website. This includes the cast's Twitter activity, a Scouse glossary and a Google map introducing key Liverpool locations to the audience.
Jodie Morris, senior producer for entertainment at Channel 4 Online says: "We know that E4's core 16 to 34 audience are highly engaged with social media, and we have a track record of commissioning innovative online content that complements the on-air offering for our audience. This partnership with Zeebox will be a fantastic way of enhancing the appointment to view experience for our viewers, creating and curating online buzz around the show."
Partnerships between digital channels and publishers or broadcasters, designed to monetise social media, are still in their infancy and therefore the details are deemed extremely commercially sensitive and hard to come-by.
According to Bruce Daisley, director of YouTube and Display for the UK, and soon to be sales director at Twitter, the deals media owners strike up to deliver content on the video-sharing channel are often bespoke anyhow and differ hugely.
He says: "Channel 4 for example, opted to sell its own channel advertising, whereas some partners ask us to sell the ads and we implement a revenue-sharing deal."
To help broadcasters develop YouTube strategies and attract targeted advertisers, Daisley's team has developed the number of available ad formats, allowing viewers choice and control over which advertiser's message they want to watch and when.
The TrueView family of ad formats are skippable, so advertisers are charged only when a viewer has chosen to watch the whole ad and not when an impression is served.
"It allows media owners to offer advertisers greater relevance and more precise data about who is watching their messages," says Daisley. "The more we apply technology to enhance the viewer experience, the easier we're making it for media owners to monetise content delivery."
Jack Wallington, head of industry programmes at the Internet Advertising Bureau (IAB) explains the way media owners are experimenting with monetisation strategies is by splitting it into four broad categories.
"The first, sharing and promoting content, is the most obvious," Wallington says. "Almost every publisher is now linking content through to social media to grow an audience and attract advertisers, based on simple analytics such as dwell time and number of followers."
ITV Group commercial director Simon Daglish agrees.
He says: "Extending the social interaction of our programming may not carry an obvious price tag, but what it does do is drive audience participation and allows ITV to increase revenue indirectly by increasing the size of individual shows.
"Take Towie ('The Only Way is Essex') for example. It's an ITV2 show, which wouldn't traditionally receive as much interest as a programme on ITV1. However, tweets sent every second the show is on air are driving the audience, increasing the brand engagement and, ultimately, showing Towie to be a more attractive proposition for advertisers."
Media owners who focus on growing the online conversation fall into Wallington's second monetisation category.
He says: "By attracting user-generated comments on websites or through social media channels, media owners can show advertisers that the community is engaged with the brand online, and article trends, which regularly attract the most comments, can then have related advertising and sponsorship sold against them."
Digital Spy, one of Hearst Magazines' digital-only entertainment properties, has seen its unique visitors climb from eight million to 13 million in less than 12 months.
Editor David Moynihan puts the success down to the interaction of its audience, both through the website and via social media, which has resulted in the brand receiving audience referrals at an accelerated rate. This has subsequently enabled Digital Spy to attract paid sponsors such as Microsoft, which currently backs its Tech News section.
Moynihan says: "We introduced yellow tabs to the end of homepage headlines stating how many comments each article has received to date. Some headlines show over 100 comments, which is an attractive advertiser proposition. Meanwhile, our forums are huge, attracting around 3.5 million users a month.
"It's a natural progression to do a joint venture with Facebook and open these forums up to the larger social media community. We're also looking to grow the e-commerce side of the site and launch into mobile."
Extending the media platform into social networks is Wallington's third category for how media owners are looking to monetise social media.
At the end of November, Facebook published data from its Open Graph features for several newspapers, including The Guardian. The figures highlight the volume of traffic which Facebook can command with The Guardian, picking up a staggering extra one million readers a day through its Facebook app, which was launched in September. The Guardian's Facebook app has been installed by more than four million people.
Andrew Miller, Guardian Media Group chief executive, says: "As well as increasing traffic, the app is making our journalism visible to new audiences. Over half of the app's users are 24 and under – traditionally a very hard-to-reach demographic for news organisations. The Facebook app is one of a number of successful launches by The Guardian in the recent months as our 'digital-first' strategy gains momentum."
The Guardian's "digital-first" strategy, announced in June, aims to double digital revenues to nearly £100m by 2016, as traditional sources of print revenue decline.
On 30 November, Guardian News & Media also launched a Spotify app to allow users to discover and listen to albums reviewed by The Guardian and The Observer.
The app shows the latest album reviews and gives users the chance to listen to tracks, give them a star rating and share with other users of the music-streaming service.
The Guardian Spotify app launched alongside the updated music platform, which now allows commercial partners to build apps that tie in with Spotify for the first time.
Spotify currently boasts 10 million active users worldwide, with 2.5 million paying to use the service.
Mike Gordon, Global Radio managing director commercial, says: "From a music audience perspective, it's impossible to categorise how a consumer will wish to consume content. So you have to have a deeper audience-engagement strategy to attract advertisers that may not otherwise consider partnering with radio. Across our organisation, we've seen 6.5 million apps downloaded, partners such as Microsoft's Windows 7 sponsor event activity, tie-ups with a host of film and entertainment brands, and the extension of our radio content into social networks."
Global Radio also launched its first daily deals website on 21 November in a bid to enter the digital network, currently dominated by Groupon. It now connects local advertisers to growing numbers of online, as well as on-air audiences. The first Welovelocal.com focuses on Birmingham.
The fourth method cited by the IAB's Wallington for monetising social media is through simplifying the process and making greater use of second-screen sign-ins from Facebook and Twitter. Zeebox is a perfect example and media agencies such as Carat are watching its evolution with interest.
Ben Ayers, head of social media at Carat concludes: "Media owners have the people who can influence the online conversation, so there's huge amounts of commercial value to be gained from leveraging their talent. With advanced ad formats such Facebook's sponsored stories and Twitter's promoted tweets, alongside app innovations such as Zeebox and their owned social channels, there's now a growing multitude of ways to monetise content.
"Media owners possess prime real estate for advertisers. Enhanced digital creativity with the help of social networks will continue to unlock new revenues for both parties."