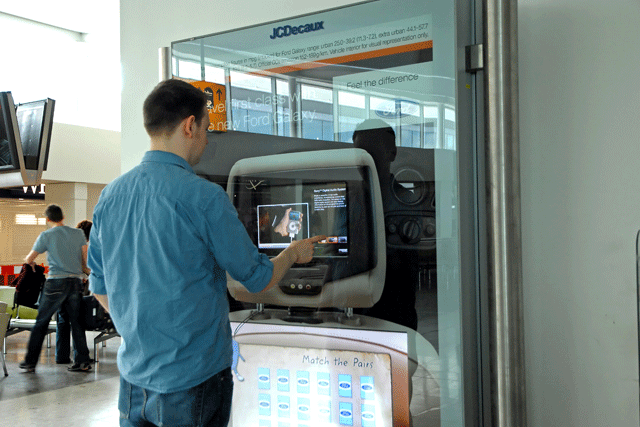 It is several years since digital screens entered the fight for advertiser share of voice. Today, they are ubiquitous.
Their virtues are legion: crystal-clear resolution, an ability to carry animated ads and time – and hence audience – specific messages, mean that business travellers in stations and airports can barely turn their heads without being subject to an increasing amount of brand messages.
Mike Baker, chief executive of industry body the Outdoor Media Centre, says: "Digital has transformed outdoor, with people rebuilding old-fashioned sites as digital sites.
"A lot more industry members are putting their foot in the water in offering advertisers something more tactical in the market. Where they were hog-tied in terms of production lead times, they can now be more responsive than newspapers."
While digital screens are clearly in the vanguard of out-of-home (OOH), with many advertisers yet to realise their potential, they are still in essence just dynamic billboards.
"But technology is in a constant state of flux and outdoor contractors – media agencies, ad agencies and clients – are finding new, innovative ways of reaching consumers," says Baker.
New tools and technologies
Targeting the traveller, business or otherwise, with new interactive tools, is set to become a boon for UK out-of-home companies, not least in time for the increased air and train travellers expected to enter the capital for the London 2012 Olympics.
Steve Cox, JCDecaux Airport marketing director, says: "What we've done over the last few years is to introduce a disproportionate number of digital screens.
"Where we are looking now is at potential ways of adding elements of interactivity to them. In rail, for example, we looked at opportunities for people to interact with screens, to tweet messages to screens in response to content."
A case in point is a campaign for Volkswagen, created by DDB UK, booked with JCDecaux and planned through MediaCom and Kinetic.
Appearing on digital billboards at major UK railways stations, it allowed commuters to watch live streams of VW's Facebook page, encouraging them to comment on the car marque's new Up! model.
In turn, these messages would appear live on digital billboards.
What is clear from this example is that the smartphone is instrumental in the growth of interactive OOH. The likes of iPhones, BlackBerry devices and larger screens such as iPads, mean that consumers are increasingly armed with powerful mini-computers. And of all the consumer groups, the affluent and influential business traveller is the most likely to own the latest devices.
Cox, who also has experience at JCDecaux's rail division, highlights the appeal of this group.
He says: "Essentially they are high-end affluent, influential individuals, the sort of people a lot of advertisers find appealing. They are important from a business-to-business point of view, as they are not that easy to get hold of because they tend to be light consumers of media.
"For an advertiser, an affluent business traveller owning technologically advanced kit, who spends a lot of time waiting in airport lounges and stations, is ripe for being targeted using innovative means.
"One of the unusual things about the rail and airport environments is that we have them for a long time, they are captive when waiting for a train, and they wait at an airport for even longer."
Airport activity
Reinforcing this point, Kieran Atkinson, international planning director at Havas Media, highlights research carried out for client Credit Suisse, a brand that targets business travellers as a core part of its strategy. Business travellers in 12 markets were quizzed and a key finding was that they spend up to 2.5 hours in UK lounges on a typical journey and that they felt airports were boring.
Relieving the ennui of the business traveller is something that Credit Suisse recently attempted.
"We undertook a bespoke iPad-based campaign for the National Gallery Leonardo Exhibition, of which Credit Suisse were sponsors, in November 2011," Atkinson says.
"The crux of our campaign centred around the creation of bespoke iPad fixtures in the departure lounges at London City Airport and London Heathrow Terminal 5."
Multiple stands were positioned, each with four iPads built into them and the Credit Suisse app pre-loaded.
Atkinson says: "Business travellers could use them to experience a studio tour of Da Vinci's 'workplace', while taking on board the information Credit Suisse provided about its association with the gallery.
"Consumers could connect via Credit Suisse's sponsored Wi-Fi free of charge and download the content, then take the content onto their journey via their own tablet."
The activity was supported with brochures, while digital media within the terminal, "coloured the airport walls with Da Vinci artwork".
According to Atkinson, the campaign successfully engaged its target audience, with more than 20,000 downloads of the app and brochure redemptions combined.
Advertiser split
But interestingly, financial services as a sector is not one of the biggest spenders at airports, accounting for a mere 6% of airport OOH spend, according to Nielsen data for 2011.
Computer advertising accounts for the largest share at 27%, followed by travel and transport (26%), business and industrial (25%) and electronics and household appliances (14%), while automotive spend accounts for a mere 2%.
In rail, there is a more even spread of spend across sectors, a reflection of the demographic variety of passengers. Earlier this year, JCDecaux launched its Eurostar departures lounge-targeted digital property.
It debuted with Vodafone on-board, carrying four 'team-building' creative executions across 32-inch and 40-inch screens in departure using the headline: "There is a better way to build your business. It's called Vodafone One Net."
But outdoor innovations are happening in less glamorous environments than airports, rail or even the Tube. Bus shelters might appear an unlikely medium for reaching the affluent business traveller, yet in an indirect way they could do just that.
In March, Kinetic and JCDecaux launched the UK's first major trial of near field communication (NFC) technology across bus shelters in Reading, with 13 advertisers including Unilever and Mercedes onboard.
Using the same technology that powers Oyster, consumers who participated were able to download information, offers and games with a swipe of their phone against one of 300 bus shelters. Post-trial, Cox says JCDecaux is looking to introduce the use of NFC technology to rail and airport environments.
However, talk of NFC and interactive screens is missing the point to an extent, according to Naren Patel, the chief executive of Primesight.
NFC or QR?
In October, Primesight launched an outdoor campaign for the Electronic Arts video game 'Battlefield 3', targeting commuters.
Patel says: "We have the external rail contract at Waterloo, where there is an unusually high level of billboards. We sold it to EA Games for the launch of 'Battlefield 3' and within it, created a smartphone interactive zone."
The campaign's interactivity comprised three elements – a Wi-Fi hub enabling consumers free internet access, QR codes that consumers could scan, and NFC tags associated with the billboard that could be activated using handsets.
"The idea was that if we had a lot of concentrated media, we could get an idea of how people interact with signs," says Patel.
The campaign ran for a fortnight, generating 4,000 hits. According to Patel. the breakdown of the responses was the most interesting finding – 5% used QR codes, 3% NFC, and the remaining 92% used Wi-Fi.
"The free Wi-Fi was the clincher, not the QR codes or NFC technologies. Everyone gets hung up on the interactive bit, but it's only half the story. It's more about how to drive search."
Whether consumers access a site by typing in an address, using NFC or scanning a QR code is incidental, Patel argues. "Everyone is getting hung up on whether it's NFC or QR – they're missing the point.
There is a key consideration when it comes to all this technological prowess. As any early adopter knows, buying the latest tech is not for the skinflint.
The cost to the client
So will it cost advertisers?
Catherine Devenish, account director at Initiative, who heads up outdoor at the agency, says: "OOH has never before been traded on a CPT model, so looking at CPTs as a means of comparison to other media has been a bit nonsensical.
"With the introduction of new Postar and the data collection and measurement capabilities of this new technology, it will make it far easier to do so. The next couple of years are going to be a very interesting time for OOH."
She also argues that innovations will make OOH more accountable.
"The implementation of this sort of technology will help attribute return-on-investment (ROI) to OOH which is currently difficult to do via econometric modelling," she says.
"The medium will become more accountable and measurable, exposing true performance and making it more comparable than ever before to other media."
Developments beyond the realm of advertising could help drive this shift. In June, Tube travellers will be able to connect to Wi-Fi at 80 stations, thanks to a partnership between Transport for London and Virgin Media. Wi-Fi service The Cloud, owned by BSkyB, is also to provide a free connection service at 12 London Overground train stations
Simon Harrington, marketing and business development director at CBS Outdoor UK, says: "Advertisers can talk to business travellers as they move through stations and on platforms, and we can tailor messages to specific locations.
"We already have the ability to reach this audience. However, new technologies will allow advertisers to enjoy a deeper engagement.
"The Wi-Fi on the Underground come the summer will make it easier for advertisers to capitalise on the interaction technology brings – downloads, search, on-line purchase etc. And we are developing the framework for them to do so."
The race to the Olympics
With the Olympics kicking off in July, more money will be is likely to flow into the coffers of media owners and agencies. But the race for innovations leads to greater costs.
JCDecaux's Cox says: "The cost of constant upgrades is a challenge everyone faces.
"You have to make a judgement call and have to be prepared to do it somewhere down the line. NFC is the main thing for us, and touch-screen in appropriate environments. They are the two main areas we are looking at in developments. Screens are getting better and cheaper all the time. We are also looking at 3D screens, although it's early days. Other innovations on the horizon could [also] become reality."

As technological developments grow apace, so too will consumer expectations – in particular those of the affluent business traveller – of how they chose to interact with the advertising around them.

The investment has been injected by the majority of OOH companies and there seems to be no doubt that the Olympics has acted as a catalyst for that change. It's now over to the players in the outdoor sector to capitalise on that investment.