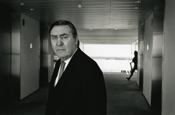 Hardy, who was 80, was a former chief executive of newspaper groups including News International and Associated Newspapers, and as recently as 2005 was the managing director of the Evening Standard.

Murdoch MacLennan, the chief executive of Telegraph Media Group, said: "Bert had a pivotal role in the building of Wapping and the creation of modern newspapers, as well as contributing to the early success and growth of The Sun and News of the World.

"His work at Associated Newspapers, particularly with the Evening Standard, was outstanding."

Hardy, who spent more than 60 years working for various newspaper groups, rose to become the chief executive of News International, where he acquired the land in Wapping that became its new HQ.

He joined Associated after 20 years at NI and won a newspaper war against Robert Maxwell's London Daily News in the London market.