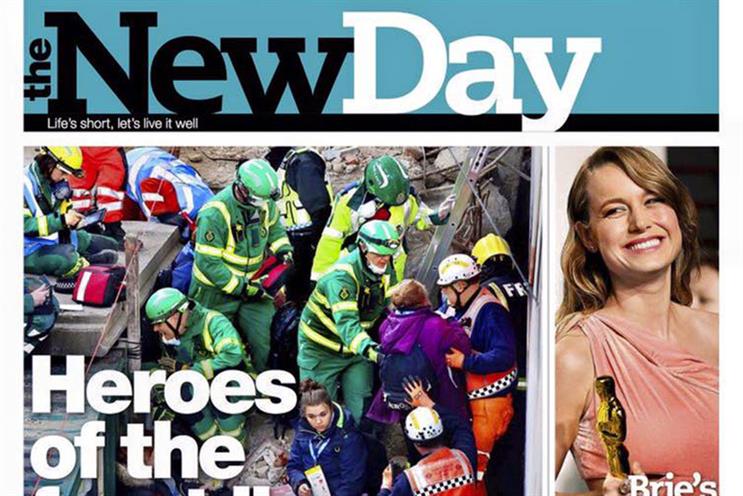 "Other than Metro and the London Evening Standard, where you have a large, London-based distribution model, I think it's hard to see that there's enough print advertising to sustain another free title," said Simon Fox, the chief executive of Trinity Mirror, in an interview with Campaign, as The New Day began charging 25p after debuting for free at its launch yesterday.
"In print, I see that our model is increasingly driven by cover price. The New Day is primarily a cover price-driven model."
The print ad sales market remains tough and Trinity Mirror said it saw a similar trend to Daily Mail & General Trust, which reported a 20 per cent slump in January.
Fox did not give a print ad sales breakdown but admitted underlying group revenues fell 9 per cent in the first two months of this year, "which was a bit worse than the underlying trend for last year".
Many publishers, including DMGT, have been quietly increasing the cover price of their print titles recently.
Fox insisted it was not a contradiction to charge in print while continuing to give away online content for free and relying on digital advertising, although The New Day has virtually no online presence.
"The advertising market is moving towards digital and away from print, and therefore the digital [business that makes sense] for us is without a paywall. We're primarily dependent on ad revenue."
The acquisition of regional newspaper group Local World, the owner of the Nottingham Post and Grimsby Telegraph, will drive top-line revenue growth at Trinity Mirror in 2016 but Fox admitted underlying sales will keep falling as digital fails to offset print decline.
"Most analysts expect the underlying rate of decline will be less in 2016 than in 2015," he said, suggesting it could be "three years" for print's decline to bottom out and move into underlying growth.
Trinity Mirror is aiming for a circulation of 200,000 for The New Day, which will increase its price to 50p in a fortnight, and it has signalled it could close the female-focused title if it fails to move into profit by the end of the year.
Fox said: "We haven't set a target. Were we to have a daily circulation of 200,000, we'd be very happy. If we were at that level there wouldn't be any question of that [being profitable]."