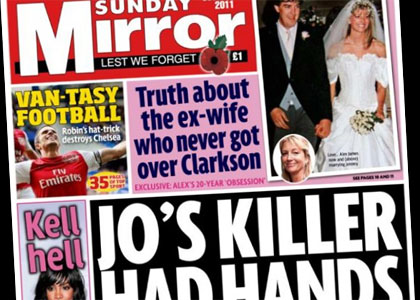 Circulations of the Sunday Mirror and The People have benefited from the closure of the NotW in June, as previously reported in Media Week.
Trinity Mirror also publishes the Sunday Mirror in Scotland.
Trinity Mirror did not break out a specific revenue figure for its improvement in revenue performance.
But it said circulation revenues across its national's division, which also includes the Daily Mirror, grew by 10% year on year in the 17 weeks ending 30 October 2011, while the rate of decline in advertising revenues had been reduced.
During the period, there were no cover price changes to its national newspaper titles.
The papers' commercial director David Emin has pushed through an advertising rate increase, hoping to monetise the circulation increase.
Overall, advertising revenues fell 10% at the national titles fell by 10% in the period.
Across its regional division, which includes the Manchester Evening News, circulation revenue fell by 3% on the year, as it was hit by cover price increases of its regional titles.
Property, motors, and other classified advertising revenues fell by 8%, 16% and 11% respectively.
Follow John Reynolds on Twitter @johnreynolds10