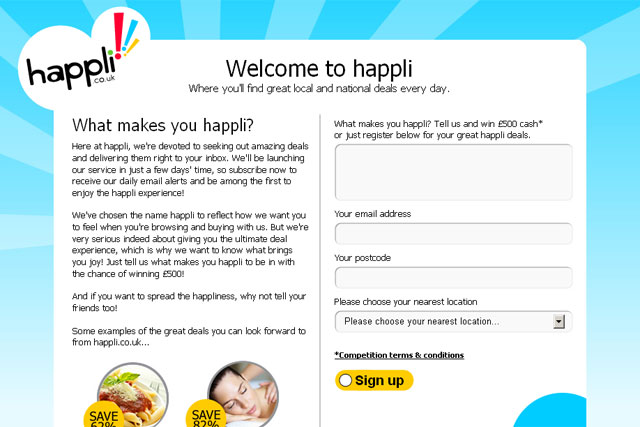 The publisher has launched a landing site for the service called Happli and is poised to roll out the service regionally and nationally next week.
Happli will be led by Dave Raywood, the former digital commercial director at Trinity Mirror Regionals, who has been appointed to the position of managing director of Happli, and managed by a senior digital team.
The service offers members big discounts on products and experiences, such as beauty treatments and meals out.
It is understood that Trinity Mirror has been testing Happli regionally for more than six months and the publisher believes the depth of research and development it has undertaken for the service will help set it apart from its competitors.
The publisher will be offering deals at both local and national level to bolster its connection with local businesses through its regional newspaper titles.
It is understood that Trinity Mirror will unveil a heavyweight campaign, created by Creative Orchestra, to support the launch. A teaser campaign has been running online and in print since last week.
Trinity Mirror's entry into the daily deals fray comes amid intense competition not only from the likes of Groupon and LivingSocial, but also brands such as BP and Time Out, which have branched out into the area.
The sustainability of the companies' business models has come under question, exacerbated by Groupon's recent floatation.
In the UK, Groupon is currently being investigated by the Office of Fair Trading.
Facebook pulled out of the daily deals space last year. However last weeks its ads signalled that the social network giant still had intentions regarding the market.
Google Offers' UK launch will also test Trinity Mirror. Its UK launch date has not yet been released but it has been gaining traction in the US and increased the number of cities it is available in.
A spokesman for Trinity Mirror declined to comment.