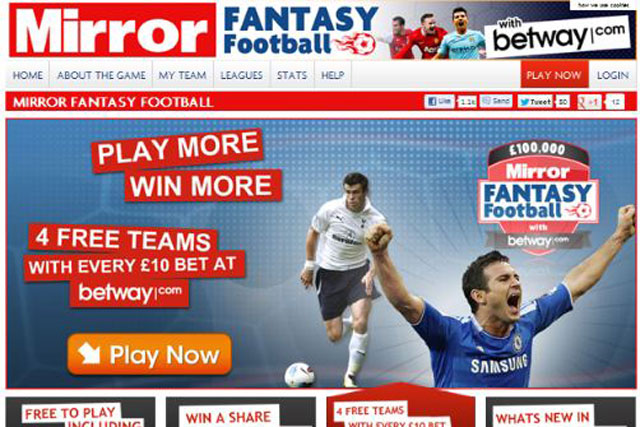 The sponsorship package will involve Mirror Fantasy Football being branded with the Betway logo and marks the betting company's first "significant" UK sponsorship.
Trinity Mirror brokered the sponsorship directly with Betway through head of online commercial partnerships Jo Bury, in a deal believed to be worth £600,000.
The tie-up comes ahead of the start of the Premier League football season this weekend and marks the first in a planned series of UK profile-raising initiatives by Betway.
Previously, the competition was only available on The Mirror website and was called 'You The Manager', but has been rebranded and upgraded this year.
Players can now pick a squad of 15 players rather than 11 and can also select strikers playing in European leagues, to appeal to those interested in leagues beyond the Premiership.
The competition will be accessible via the Mirror Online, Manchester Evening News, Liverpool Echo, Newcastle Chronicle, Birmingham Mail and Wales Online websites.
Entry to the competition is free for the first time and players will be able to enter four additional fantasy football teams for every £10 bet placed with Betway.com, while registered users will be allocated an extra free team each month.
Chris Ellis, managing director at Trinity Mirror Digital, said: "This deal will help significantly enhance the user experience and allow consumers to play for free.
"Additionally, this partnership further demonstrates our ongoing commitment to produce and develop premium digital products."
Prizes for the fantasy football competition range from £500 to £25,000 with a total prize fund of £100,000 up for grabs.
Richard Akitt, managing director at The Betway Group, said the fantasy football competition, "enables customers to seamlessly update their fantasy football team and place bets all within the same site". It will be pushed by "a series of high-profile promotions over the coming months".

Follow @mattchapmanuk