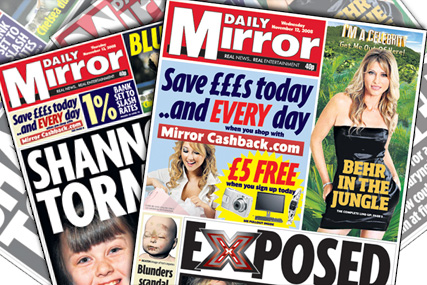 In a trading update today, the publisher of The Daily Mirror said it expected a drop in print ad revenue to 17% in the fourth quarter of 2016, accompanied by a 5% drop in print circulation.
Last quarter, Trinity Mirror's print ad revenue dropped 21% in the three months to 30 September.
The fall in print ad revenue will not be offset by a rise in digital revenue, which are expected to climb 18% in the fourth quarter.
Group revenue on a like-for-like basis is expected to fall by at least 8% in the fourth quarter, compared to a 9% decline in the third quarter and an 8% decline in the first six months of the year.
The company also revealed it would set aside anther £11.5m to settle cases in the phone-hacking scandal, nearly doubling the total amount this year to £22m. Trinity Mirror said "over 80%" of the claims against it had now been settled and that the additional funds would be used to a cover an increase in claimants' legal costs.
Nevertheless, Trinity Mirror believes its performance for 2016 will be "marginally ahead of expectations", with net debt falling to £35m by the year-end.
Trinity Mirror has also sold its Cardiff office for £7.8m.