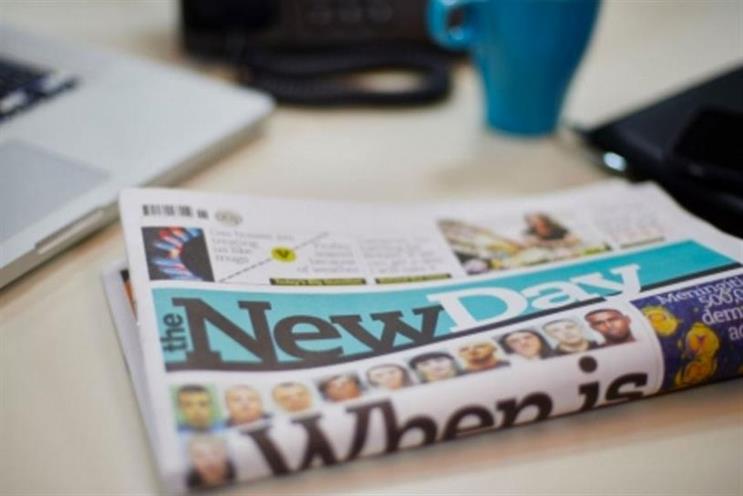 The New Day, which was launched on 29 February, will publish for the last time tomorrow, the company confirmed this morning ahead of its annual general meeting later today.
The company said the trading environment for print advertising "continues to be volatile" and that sales of The New Day had not met its expectations.
In a trading update, for the four-month period from 28 December to 1 May, Trinity Mirror said its group revenue on a like-for-like basis fell by 8.6 per cent in the first quarter of 2016, with an improved rate of decline of 6.4 per cent in April.
Within this, print ad revenues fell by 19 per cent, while circulation revenues fell by 4.5 per cent.
Trinity Mirror's digital revenue grew by 15.7 per cent, although the company did not report digital ad revenue. It said it continued to see "strong growth in digital audience" with average monthly page views, excluding galleries, growing by 22 per cent to 755 million across its web sites on a like-for-like basis.
The publisher of the Daily Mirror added that it anticipates its performance for 2016 will be in line with market expectations, while its strategy would continue to focus on managing costs while growing digital revenue.
On the closure of The New Day, Trinity Mirror said: "Although The New Day has received many supportive reviews and built a strong following on Facebook, the circulation for the title is below our expectations.
"As a result, we have decided to close the title on 6 May 2016. Whilst disappointing, the launch and subsequent closure have provided new insights into enhancing our newspapers and a number of these opportunities will be considered over time."
The company added that it has made no change to the amount of money set aside to deal with legal challenges related to phone hacking.
Trinity Mirror also reported a fall in its net debt, from £93 million to £64 million.