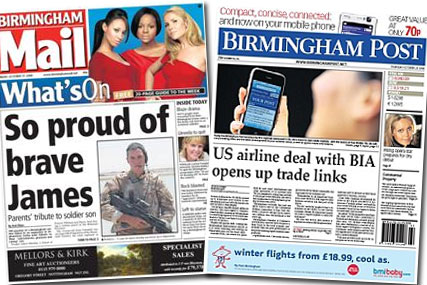 The changes will lead to the loss of more than 80 jobs.
Today's (20 October) statement follows a consultation into the proposals, which began in August, when Trinity Mirror said its Midlands businesses were running at a forecast loss in excess of £6m for 2010 and further jobs cuts were inevitable.
As part of the overhaul, reporters at the titles will now write to predetermined story shapes, which Trinity Mirror said would mean most production roles were at risk of redundancy.
In total, approximately 40 editorial roles are at risk, including photographers and a small reduction of staff on Trinity Mirror's Midlands weekly titles.
The changes will have an impact on the transport, distribution and newspaper sales departments, which will result in further anticipated redundancies of about 42 jobs.
The Birmingham Post will now publish as a 100-page weekly paper with in-depth business news and analysis, which will be complemented by a new online daily breaking-news service.
The Birmingham Mail will move to overnight production early in 2010, which a Trinity Mirror spokesman said would mean it would be on sale earlier and to give readers and advertisers "an unbeatable local news and advertising service".
Following the announcement, Steve Dyson, editor of the Birmingham Mail and Sunday Mercury, is to leave his position and be replaced by Coventry Telegraph editor Dave Brooks, who will take the role of editor of the Birmingham Mail and editor-in-chief of all Birmingham titles.
Birmingham Post editor Marc Reeves will leave the company at the end of this year, after helping the title's transition to a weekly paper. His successor will be appointed later this year.
Darren Parkin, currently editor-in-chief of Trinity Mirror's Coventry weeklies, will become editor of the Coventry Telegraph.