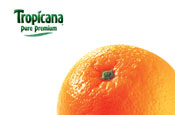 Tropicana Spirit is a blend of 70% fruit juice and 30% lightly sparkling mineral water. It provides one of the recommended five-a-day fruit and vegetable portions.
The product will be available in Orange & Mango, Blueberry & Blackberry and Lemon & Grapefruit flavours. It will target consumers on the go who want a naturally refreshing drink.
The launch of Tropicana Spirit will be backed by a £5m marketing drive, including press and outdoor advertising, sampling, direct mail, promotions and PR support.
It will be available in grocers across the UK, priced £1.29. 'Consumers are increasingly looking to soft drinks with healthier, better-for-you credentials,' said Mary Barnard, managing director of Tropicana.