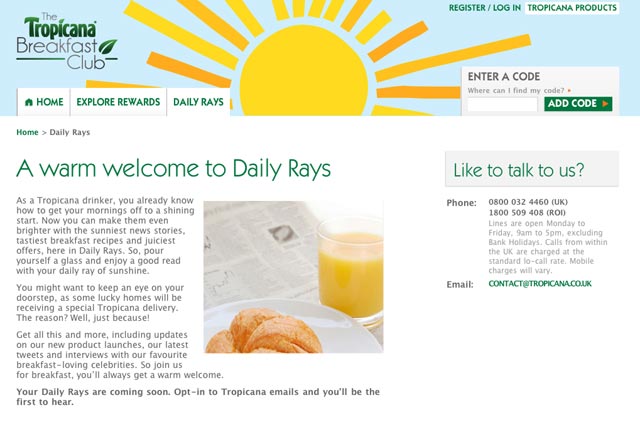 The Good News Guardian section launches this week and will feature only positive stories from www.guardian.co.uk.

The "positive" content will also be featured on the Daily Rays section of the Tropicana Breakfast Club site, www.tropicana.co.uk/club. Both sections will be live for one year.
The new parts of the site are supported by co-branded banners including MPUs, banners and editorial links designed to drive traffic to the sites, which will display the line: "Click through to read positive news, brought to you by Tropicana."

The new sections will feature a co-branded "roadblock" between 7am and 10am for one morning each week.
The partnership comes a week after the PepsiCo-owned juice brand signed a major 10-month sponsorship deal that covers programming from both the Channel 4 and UKTV portfolios.

Peter Charles, Tropicana marketing manager, PepsiCo, said: "Both partnerships form part of a larger strategic marketing plan for Tropicana, aiming to provide real longevity and truly engaging content for our consumers, via media platforms we know they already absorb and enjoy".
Both the Guardian.co.uk and Channel4 deals were negotiated by OMD UK.