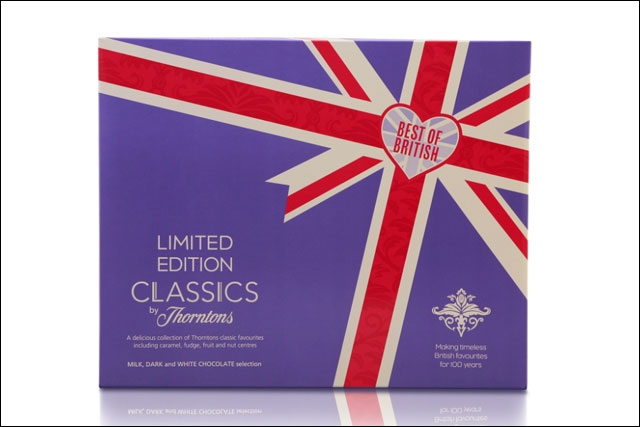 Thorntons said today (11 June) that sales of Thorntons products rocketed by 45% over the late spring and early summer, helped by its Best of British line, which was tied into the Queen's Diamond Jubilee celebrations, according to its trading statement.
Thorntons has endured a difficult time in recent times, as it sales have been hit by competition from supermarket retailers forcing it close over 100 stores.
However, Thorntons said sales at its stores – 10% of which have closed over the past year – remain subdued.
Total sales increased by 7.8% to £24.7m in the nine weeks to June 30, compared to the same period in 2011, but the group remains "cautious".
The bulk of this increase came from the commercial arm, sold in non-Thorntons stores, which saw a £2.8m (45.4%) increase to £9.3m to 30 June, a huge increase compared to previous quarters.
The Best of British line capitalised on the excitement surrounding the Jubilee and performed extremely well for the group.
For the year to 30 June, total sales were down slightly, falling 1.5% to £217.1m.
Numbers for the period were restated on a nine-week basis to allow like-for-like comparison, as that period in 2011 only had eight weeks.
Franchise sales declined to £0.9m, severely affected by the administration of Clinton Cards, where Thorntons had franchises in 46 stores.
Jonathan Hart, Thorntons' chief executive, said: "Although we are encouraged by this performance, this nine-week period contributes less than 12% to our annual sales and we continue to remain cautious about the outlook for the coming year.
"Trading initiatives in our own stores, implemented since our strategic review, combined with new product launches, have led to some improvement in underlying sales. Within the commercial channel, sales have been supported by the incremental benefit of this summer's Best of British range and timing of deliveries to our customers.
"We remain committed to our strategy of rebalancing our business, revitalising our brand and restoring profitability and I am pleased to see that the actions we have taken are starting to deliver improvements in a difficult trading environment.
Thorntons issued a profits warning in December, citing poor customer confidence and rivals' promotions as hitting its performance, and plans the closure of up to 180 stores in total, from a high of 550 a year ago.