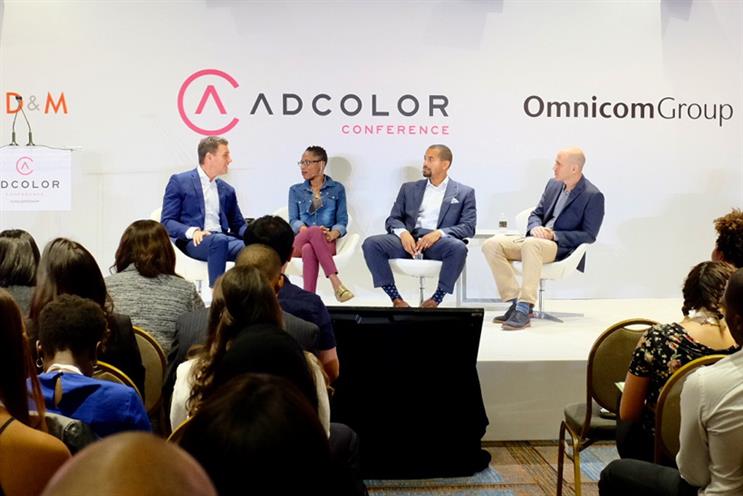 It didn't take long for the conversation at the 10th annual AdColor Conference & Awards to turn political on Tuesday. During the first panel discussion of the day, "2016: Moments that Challenged America," diversity advocates pointed to the Republican nominee's unapologetically racist campaign as the defining phenomenon of the year, for better or worse.
"Donald Trump has allowed people to take off the mask and to come out and fully embrace hatred and racism and xenophobia," said Will Jawando, senior fellow at the nonprofit think tank the Aspen Institute, who worked on the 2008 Obama campaign. "When you're at a key turning point, you often see a rage from the other side."
Concern about the strength of the Trump candidacy propelled much of the discussion between Jawando and the other two panelists: Luvvie Ajayi, speaker, writer and founder of AwesomelyLuvvie.com, and Brian Ellner, GM for corporate and public affairs at Edelman, who has lead various marriage equality initiatives around the country. Campaign US' editor-in-chief Douglas Quenqua pushed the issue with the panelists, asking whether America was actually becoming more racist, or simply being louder about their prejudice.
"The veil has been lifted" on a dark side of the American psyche, said Ajayi. "What Trump is doing on a grand stage tells people who are covert about it that it's okay to turn it up." People who would have remained quiet about their white supremacist or anti-immigrant beliefs five years ago are "taking cues from him" and speaking out. The effects are palpable, she said, citing a rise in attacks on Muslims across the country.
"We're at a unique moment in time," Jawando said, noting that bipartisan progress on issues like mass incarceration is occurring at the same time that a major party's candidate is advocating mass deportation.
But people in the ad industry have more ways to fight back than most, and the panelists urged the audience to take advantage of those avenues to change cultural perceptions. Jawando pointed to casting directors who decide what kinds of faces appear in advertisements.
To industry folks who say it's too difficult to find talented or appropriate people of color, Ellner was dismissive. "Don't buy this excuse," he told the audience. It's one that was used by the Academy Awards, despite the rise of acclaimed new television series featuring underrepresented groups. Unlike the film industry, "TV seems to be working fine," he said.
In the same way, talent procurement in the ad industry needs to move away from relying on referrals from the in-group to focus on "intern programs not based on CEO's friends," Ellner added, to loud applause. Though that won't change the industry overnight, it will create a pipeline for new and diverse talent, he said.
Ajayi noted similar resistance from the tech industry. She said she often finds herself the only black woman on tech panels, while organizers insist they couldn't find any other minority speakers. "It's so lazy!" she said with exasperation.
Never mind that there's an entire community of technologically savvy, experienced communicators known colloquially as "Black Twitter," Jawando noted.
There was room for positivity during the discussion, too. Jawondo praised Colin Kaepernick for challenging the nation to "examine what activism means." And both Ajayi and Ellner said the Democratic National Convention in July was one of the highlights of the year.
Ajayi recalled seeing President Obama and Hillary Clinton onstage together at the DNC -- the nations first black president and possibly the nation's first female president. "Kids who are 9 years old think this is the norm," she said. "This is powerful."
The DNC speech by disability advocate Anastasia Somoza, who suffers from cerebral palsy and uses a wheelchair, spurred Ellner to become more vocal about issues affecting people with disabilities, a group he said is often overlooked during conversations about diversity.
But all three panelists circled back to Trump before their time was up. Jawondo urged listeners to turn their anger into concrete action and volunteer for their local police accountability boards or political advocacy groups.
"Do not sit out this election," Ajayi cautioned. Ellner broke into a plea to millennials, a demographic leaning heavily toward independent candidates this election, to vote for Clinton, "Now is the not the time for a protest vote," he said, as the other panelists nodded.