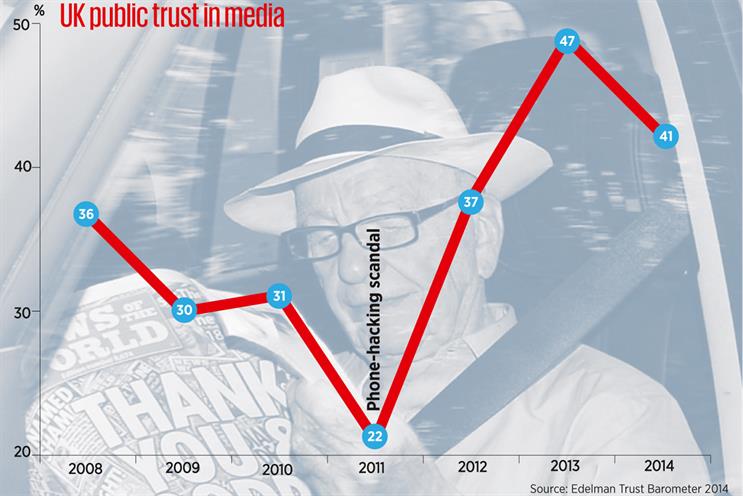 Trust in the UK had climbed from a low of 22 per cent around the time of the phone-hacking scandal in 2011 to 47 per cent in the 2013 research.
However, as press regulation attempts have stalled, the high-profile phone-hacking trial got under way and the BBC continued to be embroiled in the Jimmy Savile scandal in the past year, trust has dropped to 41 per cent in the 2014 report – though still almost double 2011's figure
More than 60 per cent of those who said they trust the media less now than they did a year ago ascribed their opinion to either immoral behaviour (38 per cent) or a lack of regulation (23 per cent).
Media was the third-least-trusted of the industries surveyed, after banks and the energy sector.
Rufus Olins, the chief executive of Newsworks, said the study should be viewed with caution because the questions were very broad. For example, the definition of media was down to the interpretation of the respondent.
He added that advertisers are looking for effectiveness and how to reach the right audiences. "Trust only comes into play when it's an extreme case," Olins said.
Phil Hall, the joint head of investment at MediaCom, agreed that, for most campaigns, advertisers were more concerned with reach and frequency.
"We've not seen any push back from clients who want to pull money out of press and into another medium," he said.
However, Hall added: "If a specific title or station had a trust problem, then that would be an issue for clients looking to associate themselves with a media brand's editorial values."
Edelman surveyed 33,000 people across 27 countries for the research, with 2,201 people taking part in the UK.