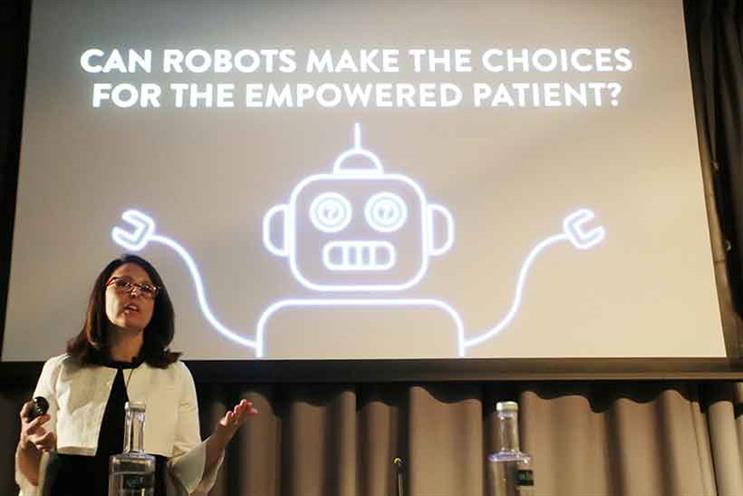 In a rapidly shifting world, few sectors have been subject to as much seismic disruption as medicine, where change is taking place at warp speed. A major paradigm shift is needed to help doctors succeed in a very different reality.
"We live in an era of patient-centricity," said Charlie Buckwell, president, McCann Health EMEA. "While this is pivotal, rather than focusing on a particular stakeholder in isolation, we seek a wider understanding of the relationships and dynamics between all stakeholders involved, including patients, doctors and others."
Buckwell, alongside John Cahill, McCann Health's global chief executive, addressed an audience of senior marketers from across the EMEA region, brought together to review the findings of a major piece of research carried out by McCann Health, in partnership with McCann Truth Central.
"We are an industry of data and evidence, which we cascade out through presentation," said Cahill. "Moving forward we must make a major paradigm shift from presentation to conversation, thereby helping the doctor to have a more meaningful discussion with the patient."
The study of nearly 2000 doctors worldwide found a startling mismatch between the expectations and reality of practicing medicine: particularly in the UK. When asked for a word that summed up the emotional experience of doctoring, most doctors around the world said "frustration," but nowhere to the extent of doctors in the UK, where three out of five doctors qualified their experience as such (UK: 61% vs global: 39%).
Dr Geraldine Strathdee, national clinical director for mental health, NHS England, and Dr Sean Cross, consultant psychiatrist at South London and Maudsley NHS Foundation Trust, shared their insights in a keynote address.
Strathdee told the room: "Medicine is a litmus test of what is happening in our society – what's going well and what needs to improve. The pace of change is escalating at an incredible rate."
"Doctors feel stripped of their ability to care by the commercial system," said Hilary Gentile, chief strategy officer at McCann Health North America, who co-presented the insights from the study with colleague Rodney Collins, EMEA regional director, McCann Truth Central.
Collins added: "We have an opportunity to help doctors reclaim mastery in patient care by calibrating data across the extended healthcare system to liberate doctors to focus their invaluable time on care."
Doctors may have been viewed as "gods in white", as one German doctor put it, but society now sees things differently. Collins demonstrated with a Google search: "doctors are…". "Useless," filled in the algorithm. "Dangerous. Overpaid. Evil."
In no other country does underfunding pose such a strong challenge as in the UK, where 42% said it was the greatest threat to their profession (17% worldwide). UK doctors also claim more difficulty sleeping than their colleagues in other countries – 72% in the UK compared with 68% worldwide. And they are more likely to report marital problems (68% compared with 58%).
UK doctors are among the most optimistic in view of the role of technology in healthcare, with 84% seeing it as a positive force for patients (76% worldwide), and around half (52%) believing technology fuels a better conversation between doctor and patient, compared with 37% globally.
But doctors see the flip side, arguing that UK patients are likely to misdiagnose themselves (73% against 69% worldwide), with around a third of patients in the UK failing to respect the authority of the doctor's advice – a rate that is relatively reassuring given that nearly two-thirds of patients globally fail to heed their physician's advice (32% UK vs 57% worldwide.)
Gentile and Collins laid out three key insights to come out of the study. Firstly, marketers can empower doctors to regain mastery in patient care, by shifting from product presentation to holistic health management. Secondly, as an industry, we need to move towards humanising technology to advance and power shared care.
Finally, there's an important role for marketers to play in recalibrating the new ecosystem. We need to refocus our efforts on a broader array of healthcare professionals and create new multi-stakeholder pathways to care. However, more than half of young people globally believe technology will eliminate the need for doctors in the future.
Despite this, the irreplaceable value of a doctor's fundamental humanity shines through. Indeed, physicians place immense value on the role of humour – especially in the US, Denmark and the UK, where it is cited as one of the top five resources doctors bring to the job. And, even with all the challenges, seven out of ten UK doctors would take the same career pathway if they had to do it all over again, although worldwide it's eight out of ten.
"How do we help define 'doctorness' in the future marketplace?" challenged Gentile. "Doctors are viewed as a lifeline – can they become a life coach? Can they move from health director to wellness practitioner? From knowledge owner to knowledge translator, and from a siloed specialist to a holistic expert?"

Left to right: Cooper, Gulbicki, Gait, Bansal and Beale
How can marketers help?
A panel of experts, chaired by Campaign's global editor-in-chief Claire Beale, took to the stage to discuss how the communications sector can help doctors navigate the stresses they face – a familiar picture of economic pressures, the rise of data, and a shift of control from doctor to patient.
Brands that want to connect with physicians during this pivotal time need to create value-based marketing, and connect with doctors as human beings.
"The language we use has to be factual, but it doesn't need to be flat and without feeling," admitted Kai Gait, senior global digital director at GSK. Sandra Gulbicki, senior vice president at McCann Health EMEA, was clear: "Understanding doctors as humans is central to our communications."
Humanising tech to advance care
As patients increasingly turn to digital tech for self-diagnosis, the panel saw opportunities to support the doctor/patient conversation, but keep it simple. "The volume of data generated by patients can be overwhelming," said Gait.
Simplicity was key when GSK developed the MyAsthma app, allowing patients to gather data on their condition to assist conversations with doctors and pharmacists. "We could have built it to integrate to lots of different systems, but doctors asked for a simple PDF, which can be emailed or printed out."
Colin Cooper, editorial director at Haymarket Medical, raised the imperative to leverage data to help doctors make better decisions and use time more effectively. But the challenge, he admitted, is 'getting buy-in to new technology from the medical professionals.'"
Hilary Gentile, chief strategy officer at McCann Health North America, related her father's recent experience visiting a doctor. "There is a huge opportunity to fuse data with the human instinct," she said. "They were able to have a reassuring conversation based on aggregate data. The doctor was able to show my father there was a low likelihood that he had suffered a mini-stroke."
Recalibrating the new ecosystem
McCann is working on a pilot allowing doctors to pre-populate electronic medical records using voice-recognition system Amazon Echo, keeping the doctor facing the patient instead of a screen.
Doctors need to share responsibility with new stakeholders to gain back time where it matters most, suggested Dr Sandeep Bansal, chief executive of healthcare tech company Medic Creations.
"We can add value using simple methods, such as the technology we created using instant messenger which gives them 31 more patient-facing minutes in their day – that's so powerful."